"When I started my career as a makeup artist, Joe Blasco's cosmetics line was a mainstay in most artists' kits. Joe was well-known for his prestigious makeup schools, revolutionary formulations and decades of Hollywood clout," recants Mary Erickson, founder of Camera Ready Cosmetics and professional makeup artist. "I deemed his Ultrabase Foundation (and still do) to be one of the very best cream foundations on the market." Even today, the biggest names in film and television use this iconic product, including Kim Kardashian and Angelina Jolie .
This creamy, weatherproof, ultra lightweight foundation is packed with pigment to effortlessly conceal stubborn hyper-pigmentation, blemishes and uneven skin tones without caking or looking heavy. A little goes a long way and will last throughout the day with just a slight dusting of translucent setting powder. The superior coverage of this product is unparalleled. With over 38 shades to choose from, it's impossible not to find the perfect shade for your skin tone.
The natural, clean, barely-there makeup look is today's hottest trend. Most people believe you need a liquid foundation to achieve this "no makeup" look. That's a myth.
For light coverage (to even skin tone):
Generously apply moisturizer. (Your face should be very moist before you apply the foundation.)
Apply six dots of Ultrabase Foundation on the face – one on each cheek, the forehead and chin.
Blend with a Kabuki brush in circular motions to achieve a beautiful, sheer glow. For areas needing more coverage, pat foundation into the skin with your fingertips. For areas that need less coverage, blend lightly with the Kabuki brush.
Set with translucent setting powder for a matte look. Not a fan of the matte finish? Skip the powder. Ultrabase Foundation does not have to be powdered because of its pigment-packed formula.
Sigma: 3DHD Kabuki, $25 – Shop Now
Bdellium Tools: Slanted Kabuki #954, $20 – Shop Now
Bdellium Tools: Precision Kabuki #957, $23 – Shop Now
PRO TIP #1: Blend the foundation onto your neck as far down as possible. Also, lightly apply leftover product from the brush onto your ears to ensure all exposed skin matches your face. Don't forget the sides of your neck, the collarbone and chest, and the tops of your shoulders if they are visible.
PRO TIP #2: Before applying powder, lightly blot your face with a flat folded tissue to remove any excess sheen. This "blotting" helps to set and stabilize your foundation before applying a setting powder. Blotting also prevents powder from looking blotchy and creates a smooth, flawless complexion.
PRO TIP #3: Never apply powder heavily. Only apply enough to produce a beautiful matte finish. If you can see the powder, you have applied too much. Lightly brush it off.
Put a dime-sized amount of moisturizer in the palm of your hand.
Using a stainless steel makeup spatula and palette set , mix half of the moisturizer with a small amount of Ultrabase Foundation.
Apply with your fingers, a sponge or brush.
Apply moisturizer on your face, and allow it to absorb into the skin for several minutes.
Once your face is dry, apply Ultrabase Foundation with a sponge or foundation brush . Blend well!
Find the color category of your skin tone at the top of the chart below. You'll see foundation color names listed below each color category. Every foundation color shown in the box will actually work well on your skin tone.
When there are 3-4 foundation colors to choose from, they are all in the same "value" (lightest to darkest). All of the options listed in that category will work on your skin tone. It's just a matter of experimentation and preference.
If you're unsure, you may purchase samples here .
Tag us in your Joe Blasco Ultrabase Foundation looks on Instagram and Facebook. For questions, comment below or email [email protected] to connect with a Customer Experience Specialist.
Camera Ready Cosmetics was founded in 2003 by Makeup Artist Mary Erickson. She dreamed of having a pro makeup showroom where artists could play with professional products without the typical makeup store attitude. Today, our team of beauty industry veterans work together to curate the best quality products on the market.
We partner with brands who respect the industry and formulate products for true working artists. You won't find CRC in high-end malls, and we don't wear matching brush belts. If you want to play with products for a few hours and buy nothing, that's okay. come in and play! Our store is your playground.
Do you know the difference between a primer, concealer or BB & CC cream? Ask most woman and they probably have no idea. I didn't know as much as I thought. I would pick something that matched as close to my skin color and use to think they were pretty much all the same, and I was so wrong. Learn how to apply concealer, foundation and primer, and what the difference is between each below!
What is Concealer?
Concealer was designed to cover up brown sunspots, under eye circles, and overall brighten up your face.It works wonders for covering up your under eye circles and dark spots. It's important to remember concealer is not something that should be used all over your face, that is what foundation is for.
Concealer for Dark Circles
If you are trying to cover up a dark spots, or searching for the best concealer for under eyes, try using a shade that is only one or two shades lighter than your skin tone. Anything lighter will bring attention to that area.
If you have oily skin, avoid using a stick or creamy concealer. They tend to clog and call attention to your pores. Do you have dry skin? Make sure to avoid using a matte liquid because it will emphasize this.
How to Apply Concealer
Apply foundation first, then your concealer. If you do this you will use way less concealer.
Use concealer on your eyelids if you don't have any primer. This will help prevent creases.
If you have acne, use a green concealer. This will help reduce the look of redness
Did you know that you can use concealer on your neck and chest too?
Follow these tips for the from beautiful Lauren in the City. She shows 2 easy ways to apply concealer. Here are also a few extra tricks for getting the coverage you want.
The Best Concealer
The best concealer all have one thing in common, make your skin look natural and blend without looking caking while covering up under eye circles, brown spots, redness, and skin imperfections.
The key is to try many and you can do this without spending a dime. How is this you ask right? If you go to Sephora or Ulta, they will give you samples to take home and test out. This is so important because the lighting in these stores is never flattering and will not look the same in natural light. Here is a list for the best concealers for your skin type to give a try.
What's Makeup Primer?
What does makeup primer do? It's job is to create a smooth base for your foundation. This can make your skin look flawless. Using a primer will ensure that your makeup will last longer.
What does makeup primer do?
Primers in a nutshell were designed to prepare your skin.They are formulated with dimethicone, a silicone based polymer because of their proven smoothing effects. They help minimize pores and give you a flawless skin.
Best Makeup Primer
Here's everything you need to know for choosing the best makeup primer to use from Birchbox.
What is BB Cream?
BB cream stands for "Beauty Balm" and it's main benefit is to hydrate, smooth, and brighten your skin. Many BB creams also offer effective sun protection, with broad-spectrum SPF 30 or higher.
BB creams can also help even out skin tone and can help smooth the skin, acting much like a foundation primer does.
Which BB Cream is Best?
Which bb cream is best really depends on your skin type. Do you have oily skin or dry, or are you looking for one with a strong SPF? Here's a list of the top BB creams for 2019 from Marie Claire.
Is BB Cream a Primer?
BB cream vs. primer, we see this question a lot. Technically bb cream is a primer because it's an all in one multi tasker. It moisturizes, protects, primes, it has coverage and it's really a great product you can have in your makeup kit. So yes, you can skip the primer and go straight to BB cream.
How to Apply BB Cream
Below are three easy way for how to apply BB cream from beauty how to apply bb cream.
CC Cream vs BB Cream
CC cream stand for "C olor Corrector " and the difference between BB and CC cream is minimal. They were created to address issues like redness or sallowness, whereas BB creams are like lighter foundation with a few extra skin care benefits. CC creams generally provide more coverage than BB creams but not always.
What is Foundation Makeup?
Just like bb or cc creams, foundation makeup's job is to cover and create an even skin tone. It's usually applied to the entire face and sometimes the jaw and neckline. Foundation can come in a few different forms, liquid or powder.
A shear foundation may be the best place to start if you have never used one before because the lighter coverage is easier to start with when you are a beginner.
Concealer First or Foundation?
Foundation is first for sure in our opinion. Foundation's purpose is to even out your skin tone and help eliminate the appearance of blemishes, discoloration, and redness.Putting on concealer first would make it hard to tell just how much you need.
How to Apply Foundation with a Brush
Learning how to apply concealer and liquid makeup takes lots of practice. No matter which primer, concealer, or BB cream you choose, take advantage of samples! Sephora will let you take home as many samples as you like. Bring them home and try them out in natural light. The lighting at stores can be very deceptive. And one more piece of advice. Please consider buying cosmetics that do not test on animals. Please help stop this cruelty!
That glowing, second-skin look? Here's how to get it.
Step 1: Clean Your Face
Step 2: Prep Your Skin
Step 3: Find Your Best Foundation Shade, Then Dab It On
Step 4: Blend Your Foundation
Step 5: Top Off Your Foundation
Step 6: Fine-Tune Your Foundation
Step 7: Bask In the Results
Knowing how to apply foundation is no small feat. The ultimate goal? An ethereal, glowing complexion sans blemishes and scars. But often, despite your best efforts to apply foundation the right way, you end up with a visible, slightly chalky mask that screams, "Look, I tried!" In the quest for that I-woke-up-like-this, flawless foundation finish, we're here to help you fine-tune your foundation-applying skills—because doing your makeup shouldn't be a feat shrouded in mystery. To simplify the foundation process, we broke down the exact steps, products, and techniques that'll help you get the most natural-looking finish, every time.
Step 1: Clean Your Face
Removing all traces of your makeup and washing your face every night is extremely key to maintaining a beautiful canvas for foundation. (You might even want to double cleanse if you wear heavier makeup.) If you cleanse properly, there's less need to thoroughly wash again come morning time.
To catch lingering makeup traces, oil, or grime, lightly swab your skin with a cotton pad soaked in cleansing water to kick-start your foundation routine with a clean, grease-free slate.
We live in a fast-moving world and nobody has the time to spend hours blending your foundation. However, makeup is an important aspect of the lives of most women. At this point, CC cream comes to your rescue.
What Does A CC Cream Do?
CC or 'Colour Control' cream is a makeup product that can replace a foundation or a primer. This product feels light on the skin as compared to other products and can help to hide imperfections of the skin including redness, blemishes, signs of ageing, hyperpigmentation and many more. Along with this, it can also help to protect the skin from sun damage.
Can We Use Sunscreen Daily?
CC cream is perfect for daily usage as it is lightweight. Thus, you won't have to worry about your pores getting clogged. This skin-friendly product should be your first choice if you are looking for something that can be used daily.
What Is The Best Way To Apply CC Cream?
One question that arises in everyone's mind is how to apply CC cream? Well, it is quite easy to apply CC cream. You just need your fingers or a makeup brush and you are good. Read on for a step by step guide to applying CC cream properly.
Prep Your Skin
You might have questions in your mind about whether you should directly apply CC cream or the face or you should apply a moisturiser before applying CC cream. Well, we have answers to all your queries.
You should always apply CC cream on a clean face. Start by washing your face with water. Use a good cleanser to wash your face, then pat your skin dry. Also, apply toner with a cotton ball if you have dry skin. After, moisturise your skin to hydrate it.
Apply CC Cream
Take out a small amount of CC cream on your palms. Take some on your finger and put small dots of the product on your face. Make sure that you cover all your face including your nose, chin, forehead, cheeks, upper lips and neck. You can put an extra dot on the areas that require special attention like blemishes, under-eye or the sides of your nose.
Blend It Well
Once you have applied the CC cream to your face, you need to spread it evenly all over your face for even skin tone. It is up to you how you would like to spread the product. Some people like to use a brush while others like to use their fingers. Both of these ways are correct. You just have to pat the product on your skin rather than rubbing it which can irritate you. Also, you can sweep a makeup brush across your skin to blend the cream outward.
However, you need to make sure of a thing. If you are using your fingers to blend, then they need to be clean. Wash them before you touch your face in order to stay protected from germs and bacteria. On the other hand, if you are using a makeup brush, then make sure that you clean it weekly.
Add More Cream To Problem Areas (Optional)
If you feel that your skin is not even-toned even after applying CC cream and want to hide your blemishes to a greater extent, then you need to add some more product to the problem areas such as your dark circles. Blend it well with the rest of the cream so that you have even and smooth skin.
Also, it is recommended to add more product instead of using a lot of product the first time itself.
Use A Makeup Brush
Once you have applied the CC cream and have spread it all over your skin, then you should use a makeup brush to buff your skin. This will ensure that the product is evenly distributed all over your skin. After this, make small circular motions with the brush. Start with your forehead and work your way down.
Step-by-step simple process of applying foundation of your skin easily.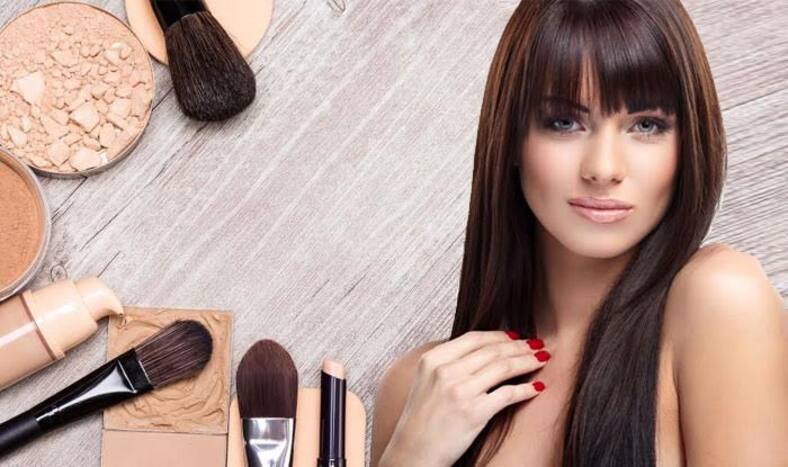 The skin-colored makeup (foundation) applied to the face to even out one's complexion is the base of your makeup. It is used to even out the complexion, cover the flaws and also to enhance the natural skin tone. Nowadays it comes in different forms such as tinted moisturizer, cream foundation, liquid foundation and dual function foundation or matte finish foundation. It helps to fill in the pores, getting rid of any kind of discoloration on the face and basically for smoother skin texture. Also Read – Skincare Tips: These 3 Simple Skincare Hacks for Summer are a Lifesaver
Though it makes you look beautiful with flawless skin, when it comes to applying foundation it becomes a bit tricky for most of us. We share with you a step-by-step simple process of applying foundation of your skin easily. Simply follow the steps mentioned below and we assure you that you will look perfect with miraculously natural-looking skin. Also Read – 6 Easy Home Remedies to Get Rid of Blackheads at Home
Before starting with your makeup, make sure that your skin is clean. Use a cotton pad and cleansing milk to prep your skin before you start applying the foundation. Using cleansing milk or cleansing water will help you remove leftover makeup, dirt and grime from your face, leaving you skin squeaky clean. (ALSO READ: How to get pink lips naturally at home: 13 effective home remedies to get back your naturally soft and pink lips).
2. Moisturize your skin
It is best to prime the skin after the cleansing. Use a good moisturizer to re-hydrate your skin after it has been cleansed properly with a cleansing milk or cleansing water. Choose a moisturizer according to your skin, use a water-based matte finish moisturizer if you have oily skin, otherwise any regular moisturizer will work. Use your fingertips or a foundation brush to evenly apply the moisturizer all over your face and neck.
3. Apply foundation with a brush
Start by choosing the type of foundation that would suit your skin; tinted moisturizer, cream foundation or liquid foundation. Then grab a foundation brush and apply the foundation starting from the center of your face and blend out. Always go for a shade that looks natural to get that flawless finish. Otherwise your makeup might end up looking all caked up. (ALSO READ: How to protect hair in winter using simple tips).
4. Blend the foundation
You need to blend the foundation properly. Learning to blend the foundation will be a game changer when it comes to your makeup regimen. Use a damp makeup blending sponge to blend the foundation and spread it evenly on your face. Blend the makeup in a rolling motion and gently press it into the skin, this will give you a weightless and light finish.
5. Conceal blemishes
Use a concealer to hide all the pigmentation, blemishes and redness on your skin. Always remember don't stroke, simply dab the concealer using your fingertip. But before doing this make sure that you have clean fingers. The warmth of the pad of your fingers will help the concealer to blend in. Now that you have used the concealer, you have almost got it all done. (ALSO READ: How to get rid of blackheads: 9 homemade remedies to effectively remove blackheads from your face).
6. Apply powder to set your foundation
This is the last step! You need to apply powder to set your foundation. Use translucent powder or pressed powder after you have applied the foundation and concealer. Use a brush to apply the powder over your face, in areas that tend to get oily. Use it on the t-zone, under the eye and chin. Using powder will not only set the foundation but it will also get rid of excess oil from your face. But don't use more than needed otherwise you won't be able to ace the naturally flawless look! And voila you have mastered the art of applying foundation!
The newest member of the e.l.f. Cosmetics Camo family is carrying on the legacy of TikTok makeup fame. Much like the concealer in the collection, the beauty brand's Camo CC Cream ($14) has officially claimed viral status on social media for being an affordable dupe for some popular (and rather pricey) tinted complexion products and full-coverage foundations out there.
For those unfamiliar with the buzzy product, the Camo CC Cream is a medium-to-full-coverage, natural-finish foundation that's loaded with skin-care benefits. The buildable, lightweight formula is infused with superstar ingredients like hyaluronic acid to plump up and hydrate the skin, as well as niacinamide to help even out the skin tone over time. The CC Cream also helps to protect skin from damaging UV rays thanks to the addition of SPF 30.
Like any other beauty product, though, how you actually apply the Camo CC Cream to your skin can make a big difference in your final result. The five tips ahead will help you experience the foundation at its full potential.
Tip #1: Prep the Skin
While some skin types may be able to use the Camo CC Cream as a tinted moisturizer (it really is very hydrating), others may need the hydration boost of a formal facial moisturizer. As a rule, properly prepping the skin before makeup typically yields a smoother, more even foundation finish. It's also easier to physically blend foundation when the skin is well-moisturized and properly prepped, no matter if you're using your fingertips, a sponge, or a makeup brush.
Tip #2: Use a Primer
To increase the wear of the Camo CC Cream and to get an even smoother skin finish than what the CC Cream can provide on its own, the brand recommends using the Poreless Putty Primer ($9). However, because the CC Cream gives skin a natural finish, you can really use it with any type of primer. If you're planning on wearing an extra-dewy or illuminating highlighter and you want to play up a glowy finish, we recommend first applying the Luminous Putty Primer ($9). Just be sure to let the primer sit for 30 seconds before applying any foundation.
Tip #3: Start With Less Product, and Build
If your foundation is buildable (and this CC cream is!), it's always a good idea to start with less product and build upon it if you need more coverage, rather than applying too much from the get-go. This stuff is so good, you definitely don't want to waste it. The brand recommends one to two full pumps for an airbrushed finish. The product itself provides a medium-to-full coverage, meaning one to two pumps should probably get you to that "medium" level.
Tip #4: Reach For the Application Tool You're Most Comfortable Using
One of the best things about the Camo CC Cream is that it really works well with all application tools — sponges, makeup brushes, and fingertips.
We've found success applying the CC cream with a sponge to create light, medium, and full-coverage looks. (Tip: apply just one teeny-tiny pump and blend for a sheer, barely there foundation look.)
For more of an airbrushed finish, e.l.f. Cosmetics recommends applying the CC cream with the brand's dual-sided Concealer and Foundation Complexion Duo Brush ($8), but a regular foundation brush will do the trick as well. Reaching for this tool is particularly helpful when you want more coverage.
Tip: #5: Apply a Setting Spray or a Setting Powder
While the CC cream has impressive staying power all on its own, depending on your skin type, the weather, and your plans, you may want to set your entire makeup look with a setting powder or a setting spray. We love the Stay All Night Micro-Fine Setting Mist ($10) because it helps set makeup for up to 16 hours and is infused with skin-soothing ingredients, like cucumber and aloe.
Discover how to apply foundation flawlessly with Charlotte's wardrobe of complexion-perfecting foundations!
11th January 2022
By Team Tilbury
The tools, brushes and techniques used when applying your makeup play a big part in the final, flawless look!
Charlotte's MAGIC range of makeup and skincare products are easy-to-choose and easy-to-use, including Charlotte's wardrobe of foundations. With a formula, coverage, finish, and shade for everyone, unlock the secret to a flawless-looking finish for every look with Charlotte's expert tutorial on how to apply foundation!
HOW TO APPLY FOUNDATION
Magic Step 1: Moisturise with Magic
Before applying your foundation, you should always moisturise your skin! After using your Charlotte's Magic Serum Elixir, apply one of Charlotte's MAGIC moisturisers; the iconic, award-winning Charlotte's Magic Cream, or the lighter-textured version, Charlotte's Magic Cream Light. These moisturisers are enriched with magic matrixes of ingredients that flood your skin with moisture to perfectly prep your skin and create a canvas that looks plumper, smoother, brighter, and hydrated!
Having this layer of hydration under your foundation can help it apply easier, last longer and look as flawless as possible!
Tilbury Tip: Follow with SPF; Charlotte's Invisible UV Flawless Primer provides SPF 50 plus pore smoothing and blurring effects for a perfected, protected canvas for your foundation!
Magic Step 2: Colour Correct
If you're using colour corrector, you should apply this before your foundation. Some colour correctors are peach or red in colour to help colour correct and conceal redness, hyperpigmentation, and uneven skin tone, and so applying before your foundation means the formula can directly correct the look of your skin and then be covered by your foundation!
Charlotte recommends her Magic Vanish colour correctors – discover why you need them and how to apply like a pro with this guide!
MAGIC STEP 3: CHOOSE YOUR FOUNDATION, TOOL + TECHNIQUE
Next, it's time for foundation, but before applying, choose your foundation, tool, and technique.
If you're opting for a light or medium coverage foundation, like [Light Wonder](/product/light-wonder-1-fair] (light coverage for a radiant-looking finish) or NEW! Charlotte's Beautiful Skin Foundation (medium coverage for a healthy-looking glow), you can either use your hands or a makeup brush to apply.
A full-coverage foundation, like Airbrush Flawless Foundation, normally applies best with a brush, as it allows for the coverage to be applied evenly and without mess with a natural matte finish! However, if you're using only a small amount of the full-coverage formula, you can use your fingertips for precision, followed by a brush to blend!
Use your hands for a quick and easy coverage, allowing you to place the formula exactly where you want it. This technique is great for if you prefer to wear less product or want to build up coverage in specific areas. A brush is also a fabulous way to apply foundation; it's mess-free and allows you to create an even-looking coverage on your complexion and effortlessly blend down your neck and into your hairline for a seamless looking, natural matte finish!
MAGIC STEP 4: APPLY YOUR FOUNDATION
Using either your hands or a brush, apply your chosen foundation to your face, starting by placing the product in the centre of your face and blending outwards for a seamless, flawless looking finish!
By starting with a small amount in the centre of your face, this allows you to ensure for easy application and blending, avoiding harsh lines and unblended product which may appear if you started on your forehead or jawline, for example.
MAGIC STEP 5: COMPLETE THE LOOK
Complete your complexion look by applying Magic Away concealer, Airbrush Flawless Finish powder, Airbrush Bronzer and cheek icons like Hollywood Contour Wand, Cheek to Chic or Beauty Light Wands! Then lock your look in place using Airbrush Flawless Setting Spray!
With a Foundation Brush – Applying with a brush is going to give you light, opaque coverage which is perfect for helping to even out skin tone and giving your skin a flawless finish. Be sure to apply with long, light strokes to avoid any streaking with your brush.
With a Sponge – This popular technique will give you more coverage if you are trying to conceal skin imperfections or for additional blending. Using a lightly dampened sponge (with water or Hydro Pearls) will give you more coverage than a brush but less than a dry sponge. This is our recommended method and each Bio-Fond Foundation compact comes with a hypo-allergenic, non-latex sponge.
With your Fingertips – Another way to apply Bio-Fond Foundation is with your fingertips. Please make sure your hands are thoroughly clean prior to application, to avoid contamination. Your fingertips will give you the most coverage but also is also great for blending, since the foundation will soften into your skin from the warmth. Be particularly gentle around the eyes and use your ring finger to pat and gently blend the foundation under the eyes.
Using a primer will help create a beautiful, flawless finish with any of these application techniques and Hydro Pearls, our water based primer, also acts as a moisturizer to help seal your skin and promote not just beautiful, but healthy skin. Because Hydro Pearls is water based there are no silicones to clog your pores, suffocate your skin, or leave you shiny looking.
Join us on our Facebook page and tell us How You Apply Your Foundation Makeup!
The art to a flawless-looking make-up finish is understanding how to apply foundation evenly and smoothly, hiding your imperfections while celebrating the uniqueness of your skin.
The secret to getting it right lies in correctly prepping the skin and finding the foundation application tool that best complements your skin type and desired finish.
Step 1: Cleanse without drying out the skin
To get the most out of foundation, it's important to start with the best canvas. Cleansers help to dissolve impurities and minimize the appearance of pores, creating a smooth base over which to apply foundation.
Try No7 Restore and Renew Cleansing Lotion . Supercharged with antioxidants and natural AHAs, it helps to gently exfoliate the skin and reduce the appearance of pores, creating a clean, smooth base.
Step 2: Hydrate with serum and moisturizer
While foundation can enhance the skin's best qualities, it can also emphasize concerns like dry skin, fine lines or blemishes. Keeping skin hydrated will ensure a more comfortable fit for your foundation.
Serums and moisturizers help to hydrate and plump the skin, preventing make-up from settling into fines lines or caking on the face. Find the best serum and moisturizer for your skin below:
How to Find the Best Moisturizer
Discover the best face moisturizer for your skin type and concerns.
Step 3: Prep with primer
Primer gives foundation its staying power. Not only does it help to smooth the appearance of fine lines, wrinkles and pores, but it forms a barrier over the skin to prevent foundation from slipping.
The mere word 'foundation' used to conjure images of the thick, cakey makeup we used to see pasted on faces of the older generation, however it has come a long way since then, evolving to become a sheer, svelte layer that is easy to apply and makes your skin look flawless. There are myriad types on the market today, from thick, long-lasting crème foundations to powder-light mousses that are barely there. The trick to ending up with flawless skin is not only to choose the correct for your skin type, but to apply it in a way that will leave you looking ready for the catwalk.
Step 1: Decide on the right color
The first step to applying like a professional is to choose the correct type of foundation for your skin type and secondly, the correct color.
Type:
If you have oily skin, go for an oil-free to avoid looking shiny half way through the day, or if you have dry skin, choose an oil-based to keep your skin moisturized.
For a foundation that holds the whole day, go for a long-lasting base with a slightly thicker medium. These types tend to stay put for an extended period of time without the need for re-application.
For a lightweight, air-brushed look, go for a mousse or powder, which offers a very thin layer of cover and sheen-like look. This type is best for people with flawless, blemish free skin as it does not cover marks well, but rather creates a perfect finish.
Color:
Choosing the correct color for your skin is vital to avoid looking like you have foundation on or having a 'jawline line'.
The best way to choose the correct color is to test the foundation on your jawline in bright daylight. If the color disappears into your skin tone, the color is correct. If you can see the foundation on your skin, it is probably too dark or light. Expert tip! If you can't afford to splurge on foundation, get a beauty adviser in the store to help you pick the perfect color, and ask for a sample to take home.
Step 2: Prepare your skin
It is important to make sure your skin is clean and moisturized before applying foundation. Cleanse your face, moisturize and wait for five minutes to let the moisturizer to sink into your skin before applying the foundation.
If you have large pores, use a primer before applying foundation to fill in pores and make them appear smaller, as well as help give you a matt finish.
A primer is also a good layer to add if you want your makeup to last the whole day or night.
Step 3: Swipe or dab
There are a few ways to apply foundation and these depend on the amount of coverage you desire.
If you are looking for light coverage for an everyday look, professional makeup artists suggest using your fingers to dab a little foundation on spots, marks and blemishes and simply rub it in evenly.
If you are looking for more coverage, use a sponge and blend the foundation in all over your face, working from the middle outwards (from the nose towards the ears). Be careful of applying too much foundation though – make sure the first layer is blended in completely before applying a second layer.
Step 4: Concealer after foundation
Concealer is a great way to cover those stubborn marks or blemishes just won't hide. Apply your concealer after as applying it before can create a cakey look. Using a small, pointy brush, dab some concealer on the darkest part of under-eye circles to get rid of those bags and shadows or use a cotton bud to dab some concealer onto spots and marks that need to go!
Expert tip! If you suffer from problem skin, avoid using foundation too often as this tends to clog the pores. Find a concealer that has medicinal properties that help to dry out spots and pimples and use this instead – it will hide the spots and dry them out at the same time.
Step 5: Finish with luminous powder
To create a flawless, airbrushed look, finish application with a lightweight powder. New translucent powders on the market help to reflect the light help skin glow and reduce shine, so take a large brush and dust some on in a 'W' motion. Begin at your hairline on one side, swoop the brush down towards your cheek bone, back up to the bridge of your nose, lightly back down the other cheek, and then up again to the opposite hairline
Liquid foundations may be the most popular formula on the market today, but cream-based stick foundations are one of the oldest forms of the complexion staple, and a makeup artist favorite. As more new launches in this category continue to hit the makeup scene, we want to make sure we know the proper way to apply them—it's not always as easy as "swipe and go." Here's what four top makeup artists have to say.
How do stick foundation formulas differ from liquids?
According to celebrity makeup artist D'Andre Michael, stick foundation formulas are simply cake foundations packaged into cylinder tubes. "They're thicker than liquid foundation, so they're perfect for those seeking to achieve medium-to-full coverage." Liquids are more fluid and can be blended and buffed to look more sheer for those who want less coverage. "They're also a bit more hydrating and are better for those with dry skin," says Mally Roncal, makeup artist and founder of Mally Beauty. "Stick foundations are best for normal-to-combination skin. I love them because they're travel-friendly, they have buildable coverage that is easy to blend, and they're versatile, which busy moms like me can appreciate."
What is the best way to apply a stick foundation?
"First and foremost, one should only apply a foundation stick to the areas where they need it," says Roncal. "Oftentimes people think they need to apply their foundation completely all over their face, like wall-to-wall carpeting, but this is not actually the case! I would suggest to only apply stick foundations to the areas of the face that need that extra coverage, and they're great because you can always build up the product."
For lighter coverage, celebrity makeup artist Jamie Greenberg recommends dipping a brush—she likes the Pinnacle Foundation Brush from Anisa ($30)—onto the stick foundation—her "absolute favorite" is Younique Touch Stick Foundation ($42)—and then brushing it onto the face. "Start toward the middle of the face and work your way up and out," says Roncal.
Marc Reagan, global director of education, artistry and events for Hourglass Cosmetics, swears by Hourglass's Vanish Foundation Stick ($46), and says the easiest way to apply it is to dot it on your skin straight from the tube (Greenberg says this technique is typically best for medium-to-heavy coverage). "Focus on where you need it, and then blend it in with a dense brush, like our Vanish Seamless Finish Foundation Brush ($46), using circular motions," he explains. "The right brush will distribute the product evenly and effortlessly while hiding imperfections and creating an even finish. If you need more coverage, dot more product on and blend that layer in with the same brush." Another good brush option is Michael's personal favorite: Sephora Collection PRO Foundation Brush #55 ($30).
However, there are always hygiene concerns when applying a product from the tube directly to the skin, especially if your skin isn't clean. "In my expert opinion, stick foundations have the ability to collect bacteria if they're applied directly to the skin, so I advise using a clean makeup brush to dab onto the stick foundation, and then apply to the skin and blend," says Michael. Many makeup pros are also a fan of using a beautyblender ($20)—Michael and Greenberg included—to blend stick foundation into the skin, and it can be especially helpful when you've used too much product and also want to remove a little without messing up your look.
Can you also use stick foundation as concealer and a contour product?
Absolutely. "They can also double as concealer and work well to target specific imperfections because of their thicker consistency," says Roncal, whose Mally Beauty line offers a two-in-one Quick Fix Foundation & Concealer Stick ($30). Greenberg always tells people to get three colors of their favorite stick foundation: light, medium and dark for their personal skin tone. "That way you can contour with the darkest shade, as well as change the shade if you need, depending on your coloring during the seasons," she explains. If you're using a foundation stick as concealer, go for the lightest of the three shades. Reagan also recommends switching your brush to a concealer brush, which will let you stipple the product over the target area to more precisely cover it.
Do you choose your shade the same way you would liquid if sticks are more concentrated?
Roncal says the shade-matching process can be more literal with stick foundations because they're thicker and less flexible. "To pick the right shade for your skin tone, I always suggest matching your stick foundation shade to your collarbone, not your face. This technique makes sure that your face, neck and body will all be the same shade."
Mature skin requires different treatment than younger skin but that doesn't mean you can't achieve a beautiful finish. Rather than relying on the makeup you chose when you were 20-something, consider the tips and tricks that will best illuminate your features instead of your wrinkles. From the type of foundation you choose to the way you apply it to your skin, these little details can mean the difference between a not-so-great finish or the appearance of a super-smooth, youthful complexion.
Step 1
Select a "second-skin" cream foundation, which means a sheer formulation that is meant to let your skin peek through. Heavy foundations magnify wrinkles. Look for an oil-based foundation if you have skin that doesn't tend to break out or reach for a water-in-silicone formulation if you still see a pimple or two.
Step 2
Rub a gentle exfoliating face wash between your hands and add water. Gently apply this to your face in small circular motions to remove any dead skin cells which can result in flaking and a not-so-smooth appearance.
Step 3
Apply your daily moisturizer to your face for hydration — if you don't have one, choose a moisturizer formulated for mature skin and your particular skin type, whether dry, normal or oily. Dry skin will need extra hydration while oily skin may require moisture plus mattifying properties.
Step 4
Squeeze a dime-size drop of makeup primer into the palm of your hand. Dot the primer on your forehead, cheeks, nose and chin and spread evenly to help fill in lines so your foundation doesn't sink into them.
Step 5
Squirt or pour a pea-sized amount of foundation onto the back of your hand and pick a bit up on a foundation makeup brush. Sweep the brush over your nose in small circular motions, working your way out toward the outer margins of your face, focusing on covering up discoloration for beautiful coverage with a smooth finish.
When it comes to cheating a dreamy, model-like complexion, your foundation game needs to be on point. So what do you do? Well, it usually starts by dropping some serious cash on the best foundation formula, then you trawl YouTube to find that perfect 'dewy skin tutorial' , and finally, you'll dedicate a good 10 mins (which is basically 10 years in morning time), to your makeup routine. All that effort. Yet for some reason, your foundation never looks quite right. It sits in pores, clings to dry skin, and come 2pm, it's all but disappeared. It's frustrating AF , but now's the time to get to the bottom of it. So we've rounded up a few of the most common reasons why your foundation misbehaves, now you can say goodbye to bad makeup days.
1. Uneven skin texture
Uneven skin texture can come in many forms, from under-the-skin bumps, to large, visible pores, or fine lines and wrinkles, all of which can contribute to foundation not sitting smoothly on the skin.
Combat it: If you're struggling with bumpy skin, grab Elemis' Dynamic Resurfacing Gel Mask, it contains enzymes that help re-texturise (aka smooth out) the skin's surface in a matter of minutes. Or, you could try Pixi's Glow Peel Pads. We know the words 'chemical peel' may sound a tad scary, but there's nothing to fear. The cotton pads are soaked in a blend of chemical exfoliating ingredients, such as glycolic acid, which work to shed the dead cells sitting on the surface of the skin and leave the complexion underneath looking brighter and smoother. However, it's important to note that your skin is prone to sun damage after a peel, so make sure you cover up with a high SPF.
Hide it: To instantly smooth skin texture, opt for a primer that diffuses and blurs imperfections. Estée Lauder's Genuine Glow Priming Moisture Balm contains mega-snazzy light-diffusing technology that helps hide pores and fine lines, and gives skin a satin-smooth finish. Don't feel the need to smother your whole face in the stuff though, simply apply to any problem areas before foundation.
As the beauty lies in the eyes of the beholder, the concept of an ideal complexion may have countless meanings – it entirely depends on your preferences and beauty standards. While asking for the "perfect complexion", you may accurately be referring to natural-looking skin as well as to a full coverage makeup work. When it comes to the final result, the foundation plays a big part – but the application method and is key. The same foundation may present opposing results depending on the application tool and technique. Is it wrong to apply makeup using your hands? Should you use a sponge or a brush? We gathered the most frequently asked questions about foundation application so you can finally discover how to apply foundation in order to achieve your perfect complexion – according to your terms.
How to apply foundation with a brush
There are countless foundation brushes to choose from, with different shapes and densities. You can find some simple, classic and intuitive shapes, such as the Flormar Flat Foundation Brush or some new approaches to this tool such as the NYX Pro Makeup Total Control Drop Foundation Brush. Generally speaking, denser brushes promote high coverage results while softer brushes allow a more natural, sheer result. These "rules" apply not only to liquid but also to powder foundation.
For a natural result: apply a small amount of foundation onto the face – if liquid, or directly onto the brush – if powder. Concentrate the product mainly onto the center of the face – where usually we have discoloration and imperfections. Work the brush with long movements and light pressure, and blend it into the skin, fading the product as you move outwards. The secret for this technique is to use little foundation, stretch/extend it as much as you can, using the brush to repeatedly swipe back and forth, with medium to long-range gestures while applying light pressure onto the brush.
For a high-coverage result: apply a generous amount of foundation and work it from the center of the face outwards. Use patting motions to work the foundation over the skin, blending with short to medium ranged movements. If you drag the product too much, you might lose some coverage potential. So, from the top: start by applying the foundation and distribute it roughly over the skin; then, use your brush to pat the foundation – a flat and dense foundation brush would be ideal. As you press the brush onto the skin, you begin to notice that all the traces of application magically disappear!
Hey fellow MUAs! I have seen a growing numbers of posts with flawless foundation using this CC Cream. It's frustrating because I own it but it doesn't look nearly as perfect on my face. I want to know how you apply it, what other products you use such as primers, and general tips to working with the formula. It's thicker than most of my other foundations and I wonder if that's my issue. Help?
This I definitely haven't tried!
I use my fingers and blend it like a moisturizer
I do this too, and then I top it with a light dusting of a mattifying powder, since I have oily skin and I don't care much for a dewey finish.
Roughly how many pumps do you use out of curiosity?
I put mine on over my sunscreen layer with the buffing brush also, but then I use my damp beauty blender to smooth it out. I just used the brush the first time and it looked so awful. The beauty blender after made all the difference. Then I finished it with my normal assortment of becca highlighter, mac bronzer, lancome blush, and it spf setting powder.
I haven't posted a pic because mine most definitely isn't flawless haha. But I use my fingers as well. I'm a big fan of Lisa eldridges videos and her technique for flawless coverage is to really let your skin shine through and apply where needed and not like a mask everywhere. I normally focus on the t zone and use concealer for any bad spots elsewhere.
I also use murads oil free mattifier first as I have found it to work better than the porefessional. And I set with bye bye pores powder.
I always moisturize(Cerave) and prime first(sometimes Smashbox photofinish, sometimes Tony Molly egg pore), then I use one pump total. I dot it on my face with my fingers and buff it in with a flat brush. Usually that gets me really nice coverage, sometimes I will use a little more before I powder(Rimmel stay matte). I had to experiment a little, I am oily and have texture(acne scarring, PIH, no fresh break outs usually). I usually love using a Real Techniques sponge for my foundation but it didn't work at all for me with this.
When it comes to makeup, people can likely agree on one thing: Foundation — yes, even the most full-coverage of formulas — should enhance your skin's appearance, not have a mask-like effect that covers your natural complexion. However, there's no denying that as you age your skin changes and so, too, will your needs change in terms of what a base product can do for you. Perhaps you've noticed that in the majority of makeup tutorials on YouTube and in most makeup ads, the models showcasing complexion products and techniques are in the prime of their youth, nary a fine line worth filling and with skin possessing the bounce-back rate of a full tank of collagen. That said, we bypassed popular opinion to get the experts' experience and chatted with some of the most experienced makeup artists to bring you helpful advice for shopping, applying, and wearing foundation when you're in your 40s and above. Read on for their five must-have tips, plus bonus ones to take your makeup game to the next level.
1. Skin-care prep is key
The best way to ensure flawless application of foundation, whether you're 14 or 40, is to prep your skin properly prior to the first drop of makeup. "Moisture is key, so always make sure you start with a moisturizer that's hydrating but won't turn greasy and interrupt your foundation texture," makeup artist Nick Barose, who counts Kim Cattrall, Angela Bassett, and Holly Hunter as clients, tells Allure. His go-to? Lancôme Nutrix Royal Day Cream, which gives skin a naturally healthy sheen.
"Prior to applying foundation, reach for a hydrating moisturizer or a bit of face oil. You can even dab in the foundation with a bit of the oil left on your fingers to add some extra moisture," says makeup artist Gucci Westman, founder of Westman Atelier. "Be vigilant about moisturizing in all areas — especially around the eyes, where you want the skin to feel smooth." Another Westman-approved tip to get a healthy glow without product: "Circulation is also key. Stimulate your face with a quick massage at night or before applying product to get the blood flowing and add a bit of glow to the skin." If you're looking for some circulation assistance, there are jade rollers and gua sha stones to give that facial massage an extra leg up.
Fingers are best for blending cream products — think concealers, foundations, cream blush, etc. This is because your body heat will blend and disperse better than a brush. The team at BIRCHBOX says it's all about the warmth. The warmth generates slip and movement of the product.
Is it better to put foundation on with a brush or fingers?
Cream and liquid foundation can be applied with fingers, a foundation brush, or [makeup sponge]," Brice told INSIDER, adding, "I think it's also better to use your fingers than a cheap foundation brush." "I like to use a damp beauty sponge or my fingers for creams and a brush for thinner foundations," added Sketch.
Is it bad to apply foundation with hands?
NEVER! To properly apply your foundation using your fingers, you should only be using a dime-sized amount of product. In makeup artist speak, this is actually a lot. You want this much with this method because the heat from your digits will press the product deeper into your skin, which inevitably uses up more product.
What is the best way to apply foundation?
Whether you're using a foundation brush (synthetic bristles are best) or your fingertips, apply foundation in a stippling motion, which means gently tapping it into your skin. Avoid any wiping or rubbing motions because that will only push the foundation around and cause streaks.
Are beauty blenders better than fingers?
Originally Answered: Is it better to blend makeup with fingers, brush or beauty blender ? All three actually. Blending with fingers can allow the makeup to spread evenly but can sometimes be messy and cakey looking.
Can you apply powder foundation with fingers?
Powders won't blend into the skin as well when applied with fingers, leading to patchy makeup. Not to mention that oils on the fingers can affect the matte effect of the powder formula.
How can I apply foundation on my face with fingers?
1:334:16How To Apply Liquid Foundation With Your Fingers — YouTubeYouTube
What should be applied before foundation?
You'll need to prepare your skin for makeup first by cleansing and applying a moisturizer. You can also add primer and concealer or color-corrector too. When applying foundation, you want to start with a small amount and apply it to the center of your face, blending outward.

A great foundation is an absolute must for any makeup routine. But, with all the different types and textures, it's tricky to find the best one to fit your unique skin type and preferences.
Even if you find the perfect hue to match your skin, a host of other things to consider come up again and again: finish, texture, base makeup, and seasons. Luckily, we've put together this guide for everything foundation. Keep reading to learn how to prime your skin for every season and find the perfect foundation.
Share this page
Find the right foundation for your skin

The first thing you should know is your skin type. Do you have dry, oily, or combination skin? Choose the right foundation according to your skin type:
Dry skin: Cream or liquid foundation with moisturizing sensation.
Oily skin: Powder foundation with a matte effect.
Combination skin: Powder or liquid foundation with a high-water content—at least 55%.
A proper finish

For a natural finish:
An emulsion type foundation—liquid or cream—is best. Compared to powder foundation, an emulsion type spreads well over the skin and has a clear finish.
For better concealment:
Powder emulsion foundations conceal better than liquid or cream types, especially for blemishes or pores. Go with a powder foundation if you want a rapid, easily-achievable finish. Since powder spreads evenly with a sponge, these foundations are the best for retouching when you're out and about.
New season, new foundation

Your complexion is not the same all year round, so remember: When the seasons change, so should your foundation.
In some regions, rising temperatures come with higher humidity and glaring sunlight. Humid weather can make your pores more visible and cause makeup runoff, while strong UV can burn the skin. Which means in the summer months you should choose a longer-lasting foundation with a high SPF and strong resistance to oil and perspiration.
In drier seasons, switch your foundation to a moisture-rich formula to give your skin a hydration boost.
Choose the best color for your skin

Start by selecting colors that come as close as possible to your natural skin color. Ocher-based foundations tend to be compatible with most skin types, but if you're concerned about adding a reddish tinge to your skin—a yellow-based foundation is best.
Go for a pink-based foundation if your skin is fair.
Select a color that blends best with your natural skin color. The least noticeable color will eliminate any unwanted color lines around your neck or the side of your face. Make sure to apply foundation to the face line, near your neck.
How to apply base makeup that stays on

It doesn't take too much effort to ensure long-lasting base makeup that leaves the skin with a smooth finish—without conspicuous pores or roughness.
First, condition the skin with skincare products. After cleansing, spread a generous amount of lotion onto the entire face and gently pat the skin until it feels refreshed. This firms the skin and controls excess oil, which helps prevent makeup runoff. Check your skin's condition and be sure to apply less emulsion or cream to oily areas, especially around the T zone.
Choose a long-lasting makeup base and foundation. Avoid thickly layered makeup by spreading the foundation to cover the entire face and then adding more as needed. A pore concealer will create an even more beautiful finish.
If you're using a liquid-type foundation, remove excess oil by pressing and patting the skin with an unused sponge after applying foundation. The makeup will last longer if you carefully pat face powder on the areas prone to makeup runoff—under the eyes or around the nose, for example.
If you obsessively follow makeup accounts on Instagram and YouTube like we do, then you've probably grown accustomed to seeing gurus and makeup artists who seem to own every single foundation on the planet.
To answer your biggest question, no, you do not need that many foundations. It's fun to own a few options so you can play with textures and finishes, but unless you're working in the industry, there's no reason for your foundation stash to resemble the Frends Beauty stockroom.
Your next question, however, might be about what formulation you should be using. Trends come and go at a lightning fast pace in the makeup world. One month it might all be about cream foundations, whereas next month liquid reigns supreme. The truth is that your makeup choices shouldn't be governed by trends so much as they should be determined by your skin type, your preferences and what works for you.
To help you decide your perfect base, here's a breakdown of the three most popular foundation formulas: cream, liquid and powder.
Powder
Powder foundation isn't like a finishing powder, which is light and meant to lock product in. Rather, powder foundation is extremely finely milled and highly pigmented. It's meant to replace liquid foundation altogether.
Why It's Great: Powder foundations are generally mineral- or talc-based. Talc-based powder foundations sit just as heavily on the skin as liquid foundations do, so avoid them if you're using powder because you want something lighter. Mineral-based foundations, however, cover up impurities and even out the skin tone while being utterly feather-light on the skin.
Why It Might Not Work For You: Mineral foundations had their moment in the early 2000s when everyone and their mother raved about how non-comedogenic they were, with many companies claiming that you could sleep in them. (Don't sleep in any makeup. Anything you put on your skin has the potential to become comedogenic if left on for too long.)
While many powder and mineral foundations are purported to give just as great of coverage as their liquid counterparts, this simply isn't the case. Mineral foundations are stupendous for daily wear when you just want something light, but you're never going to get a dramatic finish or truly full coverage from a mineral product. If you want that, you need a cream or liquid.
Try It Out: We adore the Youngblood Natural Loose Mineral Foundation, especially for its diverse shade options and buttery smooth finish.
Cream
In the old days, cream foundation was only used by industry professionals in stage and film. Thanks to the huge boom of professional techniques like contouring finding their way to the mainstream, cream foundation is becoming more and more popular for use by ordinary people.
Why It's Great: Powder and liquid foundation is hard to concentrate in one area. Both of them lend themselves better to an even application all over the face. Cream foundation, however, stays where you put it. If you want to do contouring, cream is simply the best option. Anything else is going to travel and slide around your face as the day progresses.
Why It Might Not Work For You: This is a great formula, but this is a heavy formula. You need to give yourself a good block of time to apply cream foundation. Furthermore, even if it's a great formulation, cream sits heavy on the skin. This is not the best choice for daily wear or for a light, simple look.
Try It Out: The Kehoe Palettes from RCMA Cosmetics are pretty much the perfect cream foundation palettes. You get enough colors to not only custom-blend your perfect shade, but to contour.
Liquid
The granddaddy of them all. When we think of foundation, we think of liquids. The average woman uses liquid foundation and it's the most easily accessible for most people. It's available in a very wide array of formulations, hues and textures.
Why It's Great: No two liquid foundations are the same. Some provide light coverage while others are more full coverage and matte. Generally, however, liquid is very easy to work with. You can apply it with a wide array of tools and it's relatively foolproof.
Why It Might Not Work For You: The truth is that liquid foundation will pretty much work for everyone, but a specific liquid foundation might not work for some people. If your liquid foundation isn't working for you, try a different formula or brand.
For example, oily skin types might find that dewy finish liquid foundations travel throughout the day and dry skin types might find that matte finish foundations cause their skin to flake. There's a perfect liquid foundation out there for you, you just have to hunt for it.
Try It Out: While everyone's skin will require something different, it seems to us here at Frends that the Koh Gen Do Aqua Foundation is pretty universally loved by a wide array of skin tones and textures. When working with a liquid, always finish the look with a dusting of a loose powder, such as the RCMA No Color Powder, to lock everything into place.
This guide isn't about steering you towards one formula of foundation and committing to it and only it for life. Remember, makeup is fun and meant to be experimented with. You can collect a powder, cream and liquid foundation in your beauty arsenal and alternate them depending on the look you want to create. This guide is merely meant to help you understand how these formulas differ and which looks they each lend themselves to best.
Do you have a preference when it comes to foundation formulas? Are you all powder all the time or does liquid have your heart? Let us know in the comments below. As always, join Frends Beauty today. You'll save 10% on your first order of the products mentioned here or any other items in our store. You'll also be notified of our latest and greatest product releases, promotions and blog posts.
Applying topical corticosteroids properly = better efficacy
When you apply your cortisone cream (topical corticosteroid) correctly and in sufficient amounts, you can soothe eczema symptoms significantly: reduce itching, sleep better, etc. Follow these tips to maximize their efficacy!
When to apply topical corticosteroids for eczema
Begin applying from the first signs
Crack open the tube at the first signs of an eczema flare-up. Waiting only increases the risk of making the flare-up worse and even more unbearable. Better to take action as soon as you notice any of the following signs:
redness
itching
unusual texture on the area affected
What if my skin is just dry? No need to apply a topical corticosteroid, but remember to use your emollient!
When to stop applying your cream
Once your skin appears to have gone back to normal, you can stop applying the cream. In other words, when skin is no longer red, itchy or usually thick. This may take several weeks, especially if the skin has thickened. Be sure to keep your skin hydrated with an emollient between flare-ups. In fact, you should never stop applying your emollient.
Once daily
During a flare-up, apply your cream once daily. It's best to apply it in the evening, after cleansing. You can make a ritual of it, without having to rush. Why not make it part of your bedtime routine, along with brushing your teeth and slipping into your pajamas?
Good habits to adopt
Good habit: apply generously
Begin by washing your hands so they're nice and clean.
Apply directly to red patches, and in ample amounts.
The cream should even extend beyond the inflamed areas. Apply it in large movements with the palm of your hand, rather than dabbing it on with your fingertips.
How much cream? The fingertip rule
Don't be shy. Too many people apply too little cream. This reduces its efficacy and causes patients to become frustrated and discouraged by a lack of results. Cortisone cream is a medication, and like any medication, you must use the right dose for it to be effective. You would never take a quarter of a paracetamol tablet and expect it to relieve your pain; the same goes for your cream.
No need to fear: topical corticosteroid creams are safe. But you need to apply an adequate dose for it to work.
The fingertip rule helps you know how much to apply! For an adult, this provides enough cream to treat the surface on the palms of both hands. Of course, you will often need to extract more cream to effectively treat all the red areas.
As many as several tubes per month
1 x 30 g tube = 1 application on an entire adult body
Don't worry; it's perfectly normal to pick up several tubes on a trip to the pharmacy.
Rules to follow
Do not use in diapers (except for verified cases of contact eczema, although rare. Atopic eczema does not affect babies' bottoms.)
Avoid leaving it on the eyelids too long.
Adapt the texture depending on the location of the eczema: lotions or gels are suitable for use on the scalp, in adults, or on the skin folds; ointments are preferable on thick skin.
Always in combination with an emollient
Effective eczema treatment requires two products: topical corticosteroids and an emollient.
During flare-ups: topical corticosteroids on red patches + emollient (everywhere except on red patches).
It's no secret that as the seasons change, our makeup bag inevitability changes, too. One product that we consider a staple year-round, though, is cream blush. In the summer, we love it for its ability to give our skin a flush of color while imparting that dewy, wet finish because we all know summer is all about the glow. And in winter, the hydrating formulas are lifesaving for our dry skin. With that said, applying a cream versus a powder blush can be a little intimidating, especially if you're new to the wet formula. Luckily, here to give us all of his golden tips is professional makeup artist Kasey Spickard. "The goal of blush is to add flush and warmth back to the skin, which you may have covered up with your foundation and concealer," says Spickard. "And cream blushes are fantastic because they are blendable and melt into the skin to give a true-looking flush without drying the skin." To find out exactly how he applies cream blush, keep reading. TIP #1: Warm it Up Unlike a powder blush, cream formulas can get a little cold in between uses, which makes them a little hard to blend. To make it easier to use, Spickard says it's best to warm it up. "Before applying to the face, I like to take my ring finger and swipe it into the cream blush in a circular motion, then swirl it onto the back of my hand to warm it up," says Spickard. Warming up the product on the back of your hand will allow it to blend more easily into the skin and create a more natural finish. TIP #2: Buff it Out When applying your cream blush, it's super important to blend it out onto your cheeks and into your temples. "Smile, then lightly tap the product with your ring finger onto the apples of the cheeks and up the cheekbone," says Spickard. Next, buff the product into your skin in circular motions using a brush like the Urban Decay Optical Blurring Brush. We suggest pairing this brush with the Maybelline New York Cheek Heat blush as it's a gel-to-cream formula that creates a buildable, beautiful and natural finish.
TIP #3: Powder to Finish "A great way to make your cream blush last throughout the day is to layer a powder blush on top of it to set it," Spickard suggests. After you've applied your cream blush, set it with a powder of the same shade. We love the Maybelline New York Fit Me Blushes for the creamy powder formulas and large shade range that complements many skin tones. "It's the same idea as using a powder to set your foundation to make it last all day," adds Spickard. Read More: Why Your Blush Looks Splotchy — and How to Fix It Hydrating Lip Products From Target That Will Save Your Chapped Lips The Best Blushes for Medium Skin Tones, Hands Down
The right foundation will even out your skin tone and give you the appearance of flawless skin. But you have to do it right, otherwise, you risk looking like a clown. Here are my best tips on how to properly apply foundation.
The Worst Foundation Mistake We've All Made
The biggest mistake we women make is choosing the wrong foundation shade. When choosing a foundation, you want it to perfectly match your skin tone. You may need different shades in winter and in summer when your skin is naturally a bit darker.
To pick the perfect foundation, you should try before you buy. Head to Sephora or a department store and ask for help, or at least buy from a drugstore that has a great return policy.
Choosing the Perfect Foundation
Another mistake women make is to use the same foundation their entire lifetime. As our skin changes, so should our formula. What worked in your oily, pimply teens is not going to work in your parched 50s.
There are so many types of foundations that it can be mind-boggling. From sheers to minerals to tinted moisturizers, you have many options. Decide if you need heavy coverage or lighter coverage and go from there. Learn more in this comprehensive article, Types of Makeup Foundations.
Your Tool of Choice
Despite what you've read or heard, there is no perfect foundation tool. Choose what works best for you.
Makeup artists swear by foundation brushes to apply the product. They soak up less foundation and blend flawlessly. Other women prefer to use their fingers or a foundation sponge (I love sponges). Sponges and brushes will give you a more even application, whereas your finger helps to warm up the foundation, making it super glide-able.
You can even apply foundation with a gym sock. No, I'm not kidding. YouTube beauty vlogger Mayra Touch tried it and swears she got airbrushed results. Hmmmm.
Moisturize First, or Apply Foundation Primer
All foundations will go on more smoothly if the skin is well-hydrated. You can choose a moisturizing sunscreen, moisturizer or primer that's perfect for your skin type. Let the moisturizer, sunscreen or primer soak in for about a minute before you move on to the foundation.
Foundation primer creates the smoothest surface for foundation. You can choose an oil-free primer if you have oily skin. (Some makeup artists believe it's a crime not to prime). I recommend Laura Mercier primers. Read more about primer in What is a Foundation Primer? And Do I Need it?
For pre-foundation moisturizer, I recommend Embryolisse Concentrated Lait Cream, which makeup artist Lisa Eldridge uses. It's light and soaks in beautifully without leaving any heavy residue.
Concealer and Foundation Go Hand-in-Hand
Concealer and foundation go hand-in-hand. While foundation is meant to even out your skin tone, concealer is meant to conceal your biggest flaws, such as under-eye circles or blemishes.
While there's no beauty rule as to which should come first, the foundation or the concealer, makeup artist Bobbi Brown suggests using concealer before foundation because you won't use as much foundation if you conceal problem spots first. Other makeup artists apply concealer first, so it's really up to you.
To apply, dab dots of concealer on any dark spots, such as under and around the eye and along the nose. Tap the concealer into place (never rub) or you can use a concealer brush to apply, tapping in at the end. Read more about concealer application in How to Properly Apply Concealer.
How to Blend Foundation Into Skin
Here are my step-by-step instructions:
Place a dime-sized amount of foundation in your palm and dot the foundation using your tool of choice on any red spots or uneven areas of your skin. These are usually on the chin, along or on the nose, under the eyes and the corners of the mouth. Do not cover the entire face, your goal is to achieve an even skin tone.
Moving from the inside of your face outward, blend the foundation into the skin.
Blend at the hairline and jawline to avoid the mask look.
Finish off the look with any of the following if you choose: powder, blush, bronzer, and highlighter.
Skip the Powder, Try Blotting Papers
If you have oily skin, consider carrying blotting papers for any oils that creep up over the day. Packing on the powder as the day wears on isn't good for skin. I find that paper napkins work well in a pinch.
Too Much Foundation? How to Fix It
If you've overdone your foundation, you don't have to start over. Put a dime-sized amount of moisturizer on a foundation brush and work the brush over your face. If you don't have a foundation brush, your fingers should do. Another trick is to separate a two-ply tissue, placing one ply on your face and moving it around to pick up the excess.
This is the easiest way to get airbrushed skin, every single time.
Here's the annoying thing about foundation: When it's expertly applied, it can turn your face into a perfectly even, bright, smooth-looking pearl. But when it's applied, uh, not so well, it has the potential to highlight fine lines you didn't know existed, make your skin look flaky and oily, and leave you with a chalky-looking mask. Fun!
Unfortunately for me, but luckily for you, I have experienced both the bad and the good sides of foundation. Which means I've now got a lifetime of tips and tricks that will revolutionize your makeup routine, so you'll never deal with another patchy, shiny, heavy mess again.
Step 1: Prep Your Skin
Don't skip this step. Let me repeat that: Do not skip this step. Makeup has the tendency to settle into creases and crevices of dry skin, so if your face isn't properly cleansed and moisturized first, you can forget having seamless foundation.
After cleansing with a gentle face wash, massage a lightweight moisturizer over your face, (along with any other skincare products you usually use in the morning), then wait a full 15 minutes for everything to sink in before proceeding to your makeup.
Try These Products for Skin Prep
Step 2: Choose Your Formula
I could write a thesis on how to difficult it is to find your perfect foundation shade (it takes a lot of trial and error. and bad photos), but for the sake of your sanity, I'll keep it brief:
The Coverage
Most foundations fall somewhere between sheer, medium, and full coverage. If you love your freckles, choose a formula that says "sheer" or "hydrating" or "lightweight." If you want to even out your skin tone a little, look for a medium-coverage formula, which might say "semi-matte" or "satin" finish. And if you have blemishes, redness, or hyper-pigmentation that you'd prefer to cover (or, if you just love a full-face beat), go with the formula that has more coverage, which will usually say "full-coverage" or "matte."
The Shade

Now that you know your coverage and finish, you can finally match your shade. I've tried every trick on the internet, here—undertones, neck swatches, you name it—but the best way that I've found is to, well, simply put it all over your face like you would in real life, then look at it under different lighting. Natural light from the sun is the most accurate and unforgiving, so if it looks good outside, you've most likely found your match.
Obviously, this requires you to get a sample of foundation, first. Sephora and department stores will give you little pots of foundation to take home and sample before you buy, and most drugstores—although it's not exactly fun—will allow you to return opened makeup products with a receipt. and a very apologetic look.
Try One of These Foundation Formulas
Step 3: Apply and Blend
How you apply your foundation is up to you, but if you want the absolute best, Photoshop-level finish, most makeup artists would agree that Beautyblenders (or any good makeup sponge) are the way to go. Why? Because brush bristles tend to leave little streaks and lines on your face, and your fingers/hands are unable to buff, blend, or distribute foundation in a way that looks natural.
So once you've got your sponge (make sure to get it damp with water, first, or it doesn't work as well), dab a few drops of foundation over the main points of your face (forehead, cheeks, and chin) with your finger. Then, with stippling—not dragging or rubbing—motions, quickly tap the sponge over the dots, blending the foundation out toward your hairline and jaw to diffuse the color. Keep tapping under your chin and jaw to seamlessly blend the foundation's edges.
Face primers are one of our favorite multi-use makeup products. Not only can they help your makeup stay locked in place for hours, but they can also improve the look of your skin and address common concerns like enlarged pores , rough texture, discoloration and excess oil . If you don't apply it correctly though, there's room for makeup mishaps. In order to get the most of these makeup-meets-skincare products find helpful tips below that will help to keep your skin and makeup feeling fresh.
Tip 1: Choose the Right Product
Before you select a primer, it's important to find one that not only works for your skin type, but also your foundation type. Celebrity makeup artist Jamie Dorman explains that primers are typically water- or silicone-based. "Water-based primers are best for dry and dehydrated skin — they will last longer and look better on dry skin," she says. "Whereas silicone-based primers look better on oily skin, as the silicone creates a layer that keeps the oil from breaking through."
That said, water-based primers will provide you with a more natural look because they "let your skin texture shine through," says Dorman. When looking for a water-based primer be sure to look at the ingredients — water or glycerin should be one of the top three.
If your goal is to create a smoothed-out surface for makeup application, you'll want to find a silicone-based foundation and primer. Again, ingredients matter: cyclopentasiloxane or dimethicone should be mentioned as one of the top three ingredients.
Tip 2: Prep Your Skin
Instead of thinking about primer as the first step in your makeup routine, consider it the last step in your skincare routine. Many primers nowadays have skin-loving ingredients like glycerin and hyaluronic acid to ensure your skin stays well hydrated. It's still important to use a moisturizer though, so after your moisturizer and sunscreen are fully soaked into your skin, pat on your face primer layer.
Tip 3: Use Primer Sparingly
Rather than using primer all over your face, celebrity makeup artist Molly R. Stern suggests focusing on some of your problem areas. "I like to use it sparingly like where my makeup tends to wear off and places where pores are larger, like the t-zone." If your makeup usually wears off around your chin and nose but not your cheeks, only apply it to those areas to keep it locked in place.
Tip 4: Pat, Don't Rub
Though you may be tempted to rub the primer into your face, Stern says that patting it into your skin actually increases the staying power. "Apply primer with your fingers and pat or press it instead of rubbing — this activates it with your body and allows it to sink in versus simply sitting on the surface of your skin."
Tip 5: Use a Mist
If you're still not sure that primer is the best for you, Stern suggests prepping your skin with a facial mist instead. "Spritz it a few inches from your face and let it settle into your skin. Your skin will feel tightened, fresh and ready for makeup." We like the YSL Beauty NU Dewy Mist because the soothing mist offers an instant burst of hydration and plumps the skin.
Now that you know the key steps for applying face primer, find some of our favorites below.
The Best Primer for Hydration
Giorgio Armani Beauty Luminous Silk Hydrating Primer
A favorite of Stern's, this primer is infused with glycerin, rice bran and shea butter to instantly moisturize, soften and illuminate the skin. It helps to boost your complexion's radiance and provides a smoother makeup application.
The Best Primer for Makeup-Gripping
Dermablend Insta-Grip Jelly Makeup Primer
This oil-free jelly primer acts like a magnet for your base products and locks them in place for up to 24 hours. The quick-absorbing formula also works to smooth, moisturize and tighten the skin so foundation applies like butter.
The Best Primer for a Matte Complexion
Maybelline New York Fit Me Matte + Poreless Mattifying Face Primer
If you have oily skin, this pick will be your best friend. It instantly blurs the appearance of pores while mattifying any shine for 16 hours. Also formulated with SPF 20, it adds an extra layer of sun protection while keeping makeup in place.
The Best Primer for Targeted Application
NYX Professional Makeup Pore Filler Targeted Stick
Easily target the areas where your makeup typically slides (like the T-zone) with this portable stick. One swipe immediately blurs out pores and access shine so your face looks matte, but still feels moisturized.
The Best Primer a Radiance-Boost
Valentino Beauty V-Lighter Face Base
You can use this illuminating primer in three ways — as a face base, a highlighter or on its own to give your skin a healthy glow. The hyaluronic acid-infused formula deeply hydrates the skin while Valentino's signature Roma-Light Complex gives your complexion a natural diffused glow.