We get it. Life gets in the way and it can be intimidating to take the first steps alone.
And when we have the time, it hurts to think that maybe we are absolutely useless when it comes to drawing or animation.
It's not lack of information; YouTube has lots of tutorials. It's lack of time; YouTube has TOO MANY random tutorials, you need an eternity to check them all.
What software should you use? How do you create original characters?
And if you are lucky, you might find 3 or 4 that really make sense after hours of searching.
IT'S TIME
Time to do what you wanted to do for a long time.
We are here for you to help along the way.
We've helped more than 117,000+ students all over the world, and we can help you too
Now you can finally create that animation one step at a time with a roadmap that is easy to follow.
"trying hard doesn't work"
It's intimidating when you have no idea where to start. But once you have the first steps, everything else becomes easier and easier.
Start with less than 10 minutes a day
Pause your project whenever life gets in the way
Come back to animating and know exactly where you left off
WHAT YOU GET
training
videos
16 HD Videos Explaining an Easy to Follow
Step-by-Step Plan
practical
exercises
8 Exercises to Have
Your Animation Idea Ready to Start
software
recommendations
Software and Equipment Recommendations
HOW IT WORKS
Each lesson is delivered by email, you will see a demonstration of each step with a behind the scenes of the Anime Short done in Cartoon Animator 4.
By the end of the training, you will have a plan that will make it super easy to start your animation and pause it whenever life gets in the way.
We can't deny the fact that hand drawn animation is always adorable and will always be, no matter how much 3D animation gets the limelight. The animations have always given us pleasure, not only in childhood but at our adult times too. And, the animation drawing can be so enthralling.
It feels great to think that we can ourselves perform animation drawing process effortlessly via some easy-to-use animation software. So, if you're a newcomer to this animation field or a skilled one, you'll always need very helpful software for the purpose. This article will help you in making animation with the help of some animation drawing software ultimately giving that delightful experience.
Recommended animation drawing editor – FilmoraPro
Here we recommend using FilmoraPro. You can use it to make drawing animation video by adding keyframes, so the animation will be smooth and natural. You just need to build a white plane to easily start making animation. Besides, color correction and audio mixer will raise up your video to a new level. Download it to have a try (Free)!
7 best software to animate your drawing
1. Adobe Animate
Adobe Animate is one of the leading 2D animation software in this animation industry that many designers use. For better results, it is suggested that you combine it with Capture so that you can capture various interesting color schemes or transforming the image into vector and other things before starting animation with Adobe Animate. This will create an effective hand drawn animation.
Always working on new features regularly.
Contains powerful timeline showing time and frame numbers.
The software requires a higher technical skillset to learn.
2. SketchBook Motion
SketchBook Motion is for iPad users to make their animations.With the help of this app, you can drag and drop into a document easily. You can instantly share your animation drawings as iMessage stickers, animated GIFs or MP4s.
Available in multiple languages including English, French, German.
Can make characters live with applying simple gestures.
Many in-app purchases.
Up to 3 scenes can be saved without subscription.
Full version is free only for 7 days.
3. Animation & Drawing by Do Ink
It is an easy to use and one of the best hand drawn animation apps for iPad users. This app has a large number of features and drawing editing options. For example, you can make frame-by-frame or single frame animations, create motion paths just by dragging fingers, and enjoy custom color palette and more.
Offers up to 30 FPS.
Show support to HD (16×9), square (1×1) and standard definition (4×3) aspect ratios.
Doesn't work with devices having iOS less than 9.0.
4. Animation Paper
Here is the next animation drawing software named as Animation Paper. It is simple to use and offers a lot of features. It can be considered as one of the most effective software to create animations. From layers to cutouts to paint features, it has all that pro software and a pro designer needs.
Provides super responsive interface enabling the users to get prompt workflow.
Can work with Windows and Mac easily and pencil planned for Linux, Android and iPad Pro.
Not suitable for beginners who wish to start off their work with this tool.
5. Pencil2D
Pencil2D is next in the list and is one of the lightweight software. It is an open source software and completely free to use. You can simply and smoothly sketch, ink or paint by switching between raster and vector workflows. The animated file can be exported to MP4, animated GIF or AVI when using this software. There are many drawing tools given by this animation drawing software like fast hand tool, dotted cursor etc.
It is a cross platform software that can run on Windows, Mac and Linux.
Very easy and simple to use.
Available in 12 languages.
Eraser tool lacks perfection and can't do detail work.
6. Toonator
Toonator is an online tool that can help you making your own animations. It lets you draw your own imagination on the screen and turn it into animated effect. It's an easy to use online platform to help you draw animation online. Here are the positives and negative of this tool.
The interface is really simple.
People can share their work on this platform and connect with each other.
Animated drawing can only be done in red and black color.
Functions are limited.
No name on the icons making it difficult to understand the functionality of each icon.
7. FlipAnim
Here is the last option you can try for animation drawing. This also lets you draw animation online in an easy way. You get different color options to draw as well as set animation speed. It is fun to use FlipAnim and you can share your work on this tool as well similar to the above one.
Interface is really creative to use.
Offers a grid area to draw that helps in perfect drawing.
Zoom option is icing on cake since it lets you draw everything accurately and in detailed way.
You can only create animation of up to 100 frames with this tool.
Final Verdict
Animation drawing is a way to show your creativity and is fun at the same time. We have mentioned you 7 best software through which you can make your own masterpiece and share with your friends and share globally. We hope now you are satisfied with this article and whether you are a beginner or expert, you have started animation with FilmoraPro. Download it now to have a try! Thanks for reading.
The animation is a useful feature in PowerPoint. You can use the PowerPoint animation to spice up your presentation slides and make your presentation more engaging for the audience. Besides, almost any object in your presentation slide – text, photos, graphs, shapes, audio, and video can be animated in PowerPoint.
Here's how you can add animation effects to slides, text, or any other objects in PowerPoint. Read on to learn how to add animations to your PowerPoint presentation.
Quick Navigation:
Free Customizable Slideshow Templates with Cool Animations
Part 1 How to Add Animations to Text/Other Objects in PowerPoint
PowerPoint animations bring the text and other objects or elements on your slide to life. Here's how to use those animations to animate the text and other objects in PowerPoint:
Add Text Animations in PowerPoint
Add Text Animations in PowerPoint
# 1: Select the animation you want to change its order, then click either the up or down arrow to move the animation earlier or later in the sequence.
# 2: Set an activation option for the animation by clicking the Down Arrow of the right of each effect and selecting one of the options from the dropdown: "Start On Click", "Start With Previous", and "Start After Previous".
# 3: Select the timing to set the delay and duration of an animation.
Part 2 How to Add Animation to Slides in PowerPoint
If you want to add animations to all slides in PowerPoint, you should use the Transition effects, a type of animations added in between your slides. Let's get started adding animations to slides in your PowerPoint.
Animations can make or break the user experience of your application. You can manually create CSS animations using standard CSS3, but this solution requires considerable maintenance and configuration. Alternately, you can use Animate.css, which describes itself as "a library of ready-to-use, cross-browser animations." These "just-add-water" animations provide a fast and efficient solution for all your animating needs.
In this tutorial, we will build a small todo-list application in Javascript and then animate various elements. To demonstrate how Animate.css can improve your workflow, we will first animate one element using standard CSS3 and then refactor our code to use Animate.css. We will then add several additional animations from Animate.css's extensive library.
Prerequisites
To complete this tutorial, you will need:
A code editor of your choice, such as nano or Visual Studio Code
A web browser
A comfort with HTML fundamentals. You can view our tutorial series How To Build a Website with HTML for an introduction.
Step 1 — Creating the Base Application
Before we explore how to use the Animate.css library, let's build a small todo-list application. This will give us some elements to style. We will then code a fadeIn animation using standard CSS3.
First, make a new folder for this project:
And then navigate inside:
We are going to create three files here: index.html , app.js , and style.css .
Use nano or your preferred code editor to create the first file, index.html :
Add the following content to define a brief HTML document with links to our CSS and Javascript files:
Here we have added a title, CSS Animations , and linked to our CSS stylesheet (which we will make next). We then define some Javascript objects inside a
tag and link to our third file, app.js .
Save and close the file.
Now create and open style.css in your editor:
Add the following content, which will define our fadeIn animation:
We have defined the duration of the animation and used the @keyframes at-rule to configure one animation cycle.
Save and close the file.
Now let's create our final file, app.js :
Add the following content. This will define our addTodo function and embed our animation:
Our Todo app includes a text field and a button. When we enter text into the field and press the button, a new element is created and our text is appended to it. Note the highlighted line. Here we have added the fadeIn class to every newly created element.
Save and close the file.
Now open a browser and load index.html . A field and a button will appear. Write some text in the field and press Add Todo. Your new todo will fade in.
We have successfully applied a CSS animation to an element using standard CSS3. Now let's refactor our code to use Animate.css and see how it can improve our productivity and readability. After that, we will explore a few more animations in the library.
Step 2 — Using the Animate.css Library
In this step we will refactor our code using Animate.css and then explore some additional animations.
First, we need to install Animate.css. We can do this using a CDN, or content delivery network.
Reopen index.html in your editor:
Inside the
tag, remove the existing tag to style.css and replace it with the highlighted code:
This tag will use Animate.css's official link to add their library directly to your page.
Note: You can also install the library using the node package manager (npm) or the yarn package manager.
To install the library using npm, use this command:
Or, to install the library using yarn, use this command:
Save and close index.html
Let's now refactor our Javascript to apply the fadeIn animation using Animate.css.
Every class in the Animate.css library uses an animate__ prefix. First you must add animate__animated . This instructs the element to use the Animate.css library. Then you add animate__ specific_animation . You can browse the library's official website for available options.
In our case, we will add animate__animated and then animate__fadeIn to our classList so that every new li , or list element, will fade in.
Make the following highlighted changes to your code. Your final file will look like this:
We have created a constant that includes our Animate.css classes and then replaced fadeIn with the constant on the following line.
Save and close the file.
Now reload your browser. The fadeIn style will still appear, only now you are managing the effect with the Animate.css library.
Adding animations is fast with Animate.css and helps create readable code. To demonstrate this, let's add a few animations to our
tag.
Open index.html in your editor:
Imagine if we wanted every element inside the DOM to zoom in when a user loads the page, and we also wanted that animation to repeat three times. All we would need to do is add the animated__animate , the animated__zoomIn , and the animated__repeat classes to our code.
Add these three classes to the
tag:
Save and close the file.
Now reload index.html in a browser and watch your new animation.
Without manually writing CSS or configuring any at-rules , we have successfully embedded CSS animations in HTML and Javascript using the Animate.css library.
Conclusion
Animate.css is a fast and efficient solution for adding CSS animations. Using it can speed up your workflow and create more readable code. From here you can explore the entire library of animations on Animate.css's official webpage.
But remember, animations can quickly impede, not improve, the user experience. Animate.css includes useful sections on Best Practices and Gotchas so that your animations are the most successful. Animation can also prove harmful to those with certain medical issues. Animate.css supports the prefers-reduced-motion media query, so that clients can disable potentially harmful animations.
Want to learn more? Join the DigitalOcean Community!
Join our DigitalOcean community of over a million developers for free! Get help and share knowledge in our Questions & Answers section, find tutorials and tools that will help you grow as a developer and scale your project or business, and subscribe to topics of interest.
Want to animate a still picture to make it move or even add movements or animations to a still photo to create more dynamic moving images in a video?
FlexClip makes it pretty easy to add this feature to your pictures in a few clicks. And you won't need any design experience or download any software and pay for it to make moving images. With the free online tool, FlexClip, you can create your own moving pictures with great ease.
FlexClip – Easiest Way to Animate a Picture
Easy & free to use: no video editing experience required!
No download: do not need to download or install any app.
Incredible features: add text & music, animate photos, etc.
Abundant resources: photos, clips, music, animations, etc.
Also, FlexClip online video maker offers beautiful pre-made video templates inspiring you to easily make a stunning video from your pictures:
How to Make Still Pictures Move Online
FlexClip provides two ways for you to animate a picture online free: make a still picture moving with animation feature or rely on its Picture-in-Picture motion option.
Method 1 Make Still Picture Move via Simple Animation
Upload Your Images
Animated the Picture
Here you can choose various animation effects for your photo: zoom in/out, move to left/right, etc. You can either choose to click the Apply to All the Storyboards button to animate other pictures in one click or pick another effect for other photos one by one.
Method 2 Make Still Pictures Move via Picture-in-Picture Motion Option
Besides using the simple animation to make your still picture moving, you can also animate your photos rely on FlexClip's PIP motion feature.
Add Picture to Storyboard with PIP
Animated the Still Picture
Making Your Moving Picture More Dynamic – Killer Tips
Now, you've mastered the way to animate a photo, here we want to show you how to level up your moving picture to make it more dynamic and appealing.
Tip 1: Add Dynamic Text to The Moving Picture
A moving picture with dynamic text is far more appealing than a still photo. With FlexClip, you can easily add the dynamic text to the moving photo in a few clicks.
Simply go to the sidebar and focus on the text section, scroll down to pick your desired text effect, add it to your picture, then you can enter your content and customize it in the font, color, position, and duration.
Image Board: Add Animated Text to the Moving Picture
Tip 2: Add Animated Effects to the Moving Picture
FlexClip also provides various stunning elements – emoji stickers, speech bubbles, and more shapes – you can add to your moving pictures to make them more dynamic and attractive.
It is pretty easy to and the animated effects to your images. Just go to the sidebar and switch to the Elements option, here you will see a lot of elements, both the dynamic element and other simple elements. You can either choose to pick a ready-made dynamic element or choose a simple element then add animation to them manually.
Image Board: Add Animated Element o the Moving Picture
Tip 3: Go along with a Rhythmic Music Track
You might already know the importance of the music, and you'll not surprise that different background music of a video can convey different feelings to viewers. If you want to make your moving picture more dynamic, rhythmic music must be the best choice.
That's all for how to animate a still picture and make moving images effects in a video. Hopefully, with the tool, instructions, and tips we shared here, everyone can make the still photo move and create appealing moving pictures in a video with great ease.
Has 4-year of professional photographing experience. Very much into recording every detail of life. She is passionate about all things related to video production, and loves to exploring tips and tricks about it.
FlexClip Video Maker
The easiest way to help you create custom videos, no design skills needed.
Hot & Trending
Ultimate Tik Tok Guide – How to Tik Tok & How to Make a Tik Tok Video that Gets Likes
Instagram Story Video Quality Bad After Upload? Fix It!
Top 13 Birthday Video Makers with Music and Effects Free
Best Video Quality Enhancers: Improve Your Video Quality Online
Large Collection of Creative and Funny Birthday Video Ideas for Ones You Care
How To Remove/Reduce Background Noise? – 3 Best Free Audio Optimizers
How to Search Filters on TikTok & Use a Filter You See – TikTok Filter Guide
How to Add Multiple Photos to One Instagram Story
You May Also Be Interested
Lower Third Creator: Make Free Lower Thirds for Videos [Social & News Lower Thirds]
Nick Stokes' portfolio immediately catches your eye. The Portland-based designer's brightly colored caricature designs thrust the viewer back in time, to the era of rainbow gradients and psychedelic logos. Nick started drawing at a young age watching early-morning cartoonists, and now, he works as an art director by day, and in his spare time, he perfects the same motifs that fascinated him as a child. He executes his design in Adobe Illustrator CC and then animates them in Adobe Photoshop CC.
Traditional animation has always interested Nick, but the methods seemed arduous and complicated. Modern technology makes the skill much more accessible. "I geeked out when I found the GIF feature in Photoshop and saw how it made it so much easier to create simple animations," Nick says.
The key to killer animated GIFs, Nick believes, is to approach each project with the care of a professional cell animator. But with the right tools, he is able to project his vision. "It's amazing what you can do digitally with just a tablet and Photoshop," he says. "It's getting easier and easier to make really eye-catching visuals in less time."
To prove that animating images is something any level of designer can learn, Nick gave us a step-by-step footprint through the animation process. Expand your knowledge of design apps and your creative skills with this simple how-to, and follow along by downloading Nick's files here.
STEP 1
Open up the layers tab in the Window dropdown menu. There you will see all the assets for the animation. Click the "riders" folder to view all the different rider layers. Make sure only "rider 1" is selected (there is an eye in the box to its left when selected).
STEP 2
Select Timeline from the Window dropdown menu.
STEP 3
In the bottom-left corner of the timeline bar, click the box with three little squares labeled "convert to frame animation." You should see rider 1 in the new frame. If not, make sure rider 1 is selected in the layers toolbar.
STEP 4
Underneath the rider 1 frame in the timeline bar, click the dropdown menu that says "5 sec." Select "other…" from the options and enter .07. This will be the amount of time the frame appears in the animation.
STEP 5
Click the "Duplicate selected frames" button in the timeline toolbar (the second button from the right). Deselect rider 1 from the layer menu and select rider 2. Now the first frame should be rider 1 and the second thumbnail should be rider 2.
STEP 6
Continue to duplicate layers for frames 3-15, selecting the corresponding rider for each frame. In the end, you should have 15 frames in your timeline with a different rider in each.
STEP 7
After you have created the 15 thumbnails, choose "Select looping options" from the bottom-left corner of the timeline toolbar (second-in from the left) and change "once" to "forever." This will create a looped video that starts over again after it ends.
Press the play button on the timeline toolbar (fifth-in from the right) to see the looping animation.
STEP 8
But wait, we're not done. We need to get the riders' back legs and different wheel colors into the animation as well.
Let's start with the legs. In the layers tab, you should see another folder labeled "rider legs." Click the box to the left of the layer to activate it. In that folder, you will find the legs for riders 1-15. Make sure rider 1 is selected in that menu. You should see an orange leg appear behind the biker.
STEP 9
Repeat this process matching each rider with their corresponding legs layer — frame 2 with leg 2, frame 3 with leg 3, frame 4 with leg 4, etc.
STEP 10
Now, let's do the wheels. Each rider has their own wheel color based on their unique color scheme.
Activate the "bike wheels" folder by clicking the box to the left of the folder name. Then, click on the bike wheels folder to see all 15 wheels.
STEP 11
Now we will sync up the wheels to their corresponding frames, just like we did with the riders and their legs — wheel 1 with frame 1, wheel 2 with frame 2, wheel 3 with frame 3, etc.
STEP 12
Once all the wheels are synced to their frames, press the play button on the timeline bar to see the fruits of your labor.
With Adobe Creative Cloud, it's easy to create illustrations that move as much as you do, and for those of you who made it this far, we've included a special treat. Now that you know how to animate your existing designs, learn how to quickly animate a selfie on the go using Adobe Capture and Adobe Draw.
And because we like you so much, here's a tutorial download for safe keeping — it's the least we can do for our loyal friends. Keep the gifs coming.
In this hands-on course, you'll learn how to animate in After Effects!
Learn how to create impressive After Effects text animations using a variety of useful animation techniques. You'll start by learning about keyframe animation and how to reveal text with masks and shape layers, before moving on to three practical projects.
These projects will teach you how to animate a logo for a burger restaurant, create a stunning futuristic animated logo reveal, and use a write-on text effect to bring a chic text design to life. In these animation tutorials, you'll master a combination of keyframe animation, text reveals, and After Effects expressions to create complex and subtle movement.
Each project uses art created by a graphic designer using assets from Envato Elements, and through each project you'll learn a different set of techniques you can use to create your own After Effects animations.
By the end of the course, you'll know everything you need to know to prepare art for use in After Effects, animate all the different elements, and produce creative and impressive text animations!
Once you've mastered the basics, check out the top-quality video templates available as part of an unlimited Envato Elements subscription.
After Effects for Beginners
Learn how to use After Effects in our hands-on free course. You'll start at the absolute beginning and work quickly through these After Effects tutorials into more exciting techniques.
Thinking of getting started with Adobe Animate? We're going to show you the basics every beginner should know.
Adobe Animate is the latest in a long line of tools for animators. It's Adobe Suite's own resident 2D animation software; its answer to competitors such as Harmony and other professional animation systems.
Animate is a direct descendent of the OG of prosumer animation software, Macromedia Flash. Although Flash is long behind us, we're still able to enjoy all of the revolutionary features that made it so wildly popular in the first place through Adobe Animate as it exists currently.
You can grab the Adobe Animate free trial from Adobe's site. Once it's yours, it's time to dive in.
How to Use Adobe Animate: Getting Started
First, you'll need to download Animate CC through the Creative Cloud desktop app or from Adobe's website.
Adobe Animate CC System Requirements
If you're using a PC, you should be using an operating system no older than Windows 7. As far as your processor is concerned, Adobe recommends an Intel Pentium 4, Intel Centrino, Intel Xeon, or Intel Core Duo processor, or any other compatible processor capable of at least 2GHz or more.
Apple users should be using a Multicore Intel processor and macOS X version 10.12 or later.
8GB of RAM is recommended, but Adobe claims that users can get by with only 2GB. A 1280×1040 display is also preferable over a 1024×900 display.
How to Use Adobe Animate's Workspace
Once the app has been downloaded and installed, it'll dump you right into the staging area. Just like in every other Adobe program, the Animate workspace consists of an amalgamation of docked panels.
You've got a bunch of tools to your left, most of which are self-explanatory and easy to use. The big, white stage in the middle is where you'll be adding elements and characters to the scene, and you have a Timeline panel below where you can keep track of your animation temporally.
Adobe Animate's flagship feature is the catalog of professionally designed and rigged character models for you to choose from. You'll find all of these in the Assets panel to your right.
There is a lot to explore elsewhere—commands, symbols, lip-sync, and custom character rigging, to name a few. For this Adobe Animate tutorial, however, we're going to keep things simple and focus on the basics.
Once you've got your bearings, scroll through all of the different character options in the Assets panel. Let's add one to the staging area and create a simple animation.
How to Make an Animation in Adobe Animate
In Animate CC, there are a couple of different ways that you can animate a character:
Tweening: you have two keyframes, one posed extreme, and then the other. If you're using puppets or vector shapes, you can instruct Animate to mathematically bridge the gap between the first and the second—a frown that turns into a smile, for example. Tweens are simple, but you can create more complex effects by compounding them.
Frame-by-Frame Animation: this approach, often referred to as a digital paperless animation workflow, looks a lot like traditional 2D animation. Essentially, you draw every frame by hand.
This second approach, admittedly, takes a lot of time, but Animate CC makes it a totally viable option. For now, we're going to explore how to animate a rigged character design with tweens.
Choosing a Character to Animate
Using the second dropdown, you can check out some of the naked rigs in Animate, already animated and ready to be adorned.
Under Rigged Objects, you'll find two spelunkers, both fully rigged. We're going to go with the girl. Drag and drop her into the staging area.
There she is, and she walks just fine, but our timeline is looking suspiciously bereft of action. Where are all of these tweened keyframes hiding?
In order to proceed, we'll need to step into our character's own personal timeline. To do so, double-click on her model in the staging area. To step back out, follow the breadcrumbs at the top of the staging area.
Wow. That's a lot of layers.
We can see that each element of her armature exists on a totally separate layer. Selecting any body part reveals the underlying skeleton. You're free to manipulate the rig and even customize it once you've advanced sufficiently.
Let's work on nailing how to animate what we have before we think about anything else. Now, all of these actions are laid out, allowing us to modify them if necessary. We can try to make her do a little wave as she walks.
Animating With Rigs in Animate CC
In the timeline, right-click on frame five and select Insert Pose from the context menu.
Cute, but her arm goes back down way too quickly. Let's add more poses so she waves for a few frames before putting her arm back down more naturally. Continue to add poses and extremes until she starts to feel just a little bit more human.
We chose to animate this action on twos, adding a new key pose on every other frame; you can take a closer look at what you've got with Animate's Onion Skins display option. As you can see, this character's armature rigging actually includes a handle that lets us rotate her hand on her wrist for a much more spirited and realistic sense of movement.
Use the keyboard shortcut Alt + Shift + O to enable Onion Skins and select the range of frames that you would like to display. We have a reasonably smooth progression in front of us, but what if we wanted to add more in-betweens by hand?
Click and drag the frames that you would like to convert so that they're all selected and active in the timeline. Right-click and choose Convert to Frame-by-Frame Animation.
We actually love the fact that this feature allows you to specify your keyframe frequency—it makes animating on twos or threes extremely convenient.
How to Export an Animation From Adobe Animate
To export your sequence, navigate into the File dropdown above. Under Export, select Export Video/Media. You can also choose to export an image, an image sequence, a GIF, or even a classic SWF file.
From here, you can refine your output settings by trimming your sequence, choosing a different codec or destination folder, or creating a bigger or smaller file if necessary.
You can review the resulting MP4 on any external video player. It can be used as a part of larger video projects or published directly on the web.
Animate CC for Beginners: So Easy, You Won't Ever Want to Put It Down
Animate CC makes animation feel like child's play. It's a shockingly simple workflow at this level, but after you have the fundamentals down pat, you'll see that all of these tools and techniques can be used to create something much more complex.
Honestly? We're just getting started. With every new lesson learned, an entire world of possibilities opens up before us.
Find tutorials from novice to expert to help you expand your skills.
User Guide
Get quick answers and step-by-step instructions.
Troubleshooting & help
Download & install
How do I download and install Animate?
You can download Animate from the Creative Cloud apps catalog. You'll need to sign in with your Adobe ID and password to complete the download. For more information, including how to install older versions or check for updates, see Download your creative cloud apps.
Why won't Animate install?
For solutions to a "failed to install" error, see Error: "Failed to install" Creative Cloud desktop app. To resolve other download, installation, and update issues, see this download and install troubleshooting guide.
Can I download a trial copy of Animate?
Yes! You can download trial versions of any Creative Cloud app, including Animate, from the Creative Cloud apps catalog. You'll need to sign in with an Adobe ID and password to download a trial. For detailed instructions, see Download and install a Creative Cloud trial.
How do I retrieve my Adobe ID or password?
Can I install Animate on another computer?
You can install Animate and other Creative Cloud apps on up to two computers. If you want to install it on a third computer, you'll need to deactivate it on one of your previous machines. Learn more about activating and deactivating Creative Cloud apps.
Still need help? Find more download and install solutions.
Account management
How can I change my password?
Sign in to your Adobe account. Under the Password section, select Change for Current Password, and then follow the onscreen instructions.
Forgot your password? Learn how to reset it.
How can I change my credit card info?
How do I upgrade or change my membership?
Switching Creative Cloud plans is easy. Follow these step-by-step instructions to upgrade or change your plan.
My trial expires soon. How do I convert it?
Converting your trial to a paid membership is easy. Follow these step-by-step instructions to upgrade and start your membership.
How do I cancel and what happens to my files?
If you cancel your membership, you still have access to Creative Cloud member free benefits and any files you saved to your device. You won't have access to apps or most services and your cloud storage will be reduced to 2 GB. Learn how to Cancel your Creative Cloud membership and understand the Adobe subscription terms.
How to create motion path animation in Animate
The following tutorial will show you how to create animated UI elements along a predefined path in Adobe Animate.
The most important points of this tutorial are to learn:
How to create and use Motion path
How to change the easing of the animation to make the movement more natural.
Here is how the final variant will look.
For this tutorial, we used Adobe Illustrator to create the vector assets for the scene. We decided to do so because it's a vector based program like Animate and it's easy to exchange assets between them.
We start off by creating a scene that consists of a road with two turns and a car for the purpose of the tutorial.

Step 1 – Import the assets in Animate
Import vector based background asset to Animate on the first layer.
Create a second layer and import the car. In our case, the car will be the only element that will be animated.
Drag the car to the position that you want to start the animation from.
Step 2 – Preparing for animation
Select the frame on the timeline that you want to be the last frame of the animation.
Then right click -> select Insert Keyframe. Let's do it 5s.
Then move the car to that point in the scene where you want the animation to end.
Step 3 – Create motion path.
Now we have the first frame and the last frame as well as the position of the car. It's time to create a motion path to guide the car.
Right click on the layer (car) -> Add Classic Motion Guide
Select the Pen Tool from the Tools panel.
Create a guide.
The guide should follow the road to make the car move properly.
Note: Make sure the center point of the car is at the start and end of the line.

Step 4 – Animating
Then right-click on the layer (car) and click Create Classic tween to make the car follow the path.

Step 5 – Add animation easing
Let's make the animation smooth and more natural.
When we already have moved to the path. It's time to play with the properties of tweening.
Go to the Properties panel and make sure the Snap and Orient path options are checked.
By adding a custom easing to the animation, we will make the movement of the car look more natural.
Properties -> Tweening -> Easing -> Edit easing
Then click on Custom -> New
The Custom ease graph represents the degree of motion over time. The horizontal axis represents the frames and the vertical axis represents the tween's percentage of change. These curves can be made more complex by adding additional anchor points along the length of the path. Alternatively, we can adjust the already existing anchor point at each end of the line.
In our case, we want the movement of the car to slow down before it turns and to speed upon exiting. From the first frame, the movement speeds up a bit and moves the curve to a higher percentage. Then, it slows down around the 25th frame when the car is getting to the first turn. Afterwards, we keep the curve in an almost straight position so the car moves at a constant speed until the end of the right turn. This time it is a 100 frames. It starts to speed up by changing the position of the curve on the opposite side.
And here's the finished animation!
That completes the tutorial.
We would love to know if you found this tutorial helpful! Let us know by leaving a comment below or sharing the post on Twitter!
There are more tutorials coming your way! Stay tuned and follow our blog.
Explore two ways to become an animation maker: Tap into the power of motion capture with Adobe Character Animator to create expressive animated characters or get an intro to the traditional cartoon animator techniques of Adobe Animate.
Adobe Character Animator makes animation easier than ever.
Automate the most time-intensive aspects of creating animated videos with Character Animator. Thanks to head tracking, automated lip sync, and a library of facial expressions and movements, media that once took days to produce can be done in an afternoon.
Animating made simple — turn yourself into a cartoon character in minutes.
1. Animate in real time. When you speak, the character does too.
2. Perform as an animated cartoon. Stream to an audience as a character, and interact with live-action elements in real time.
3. Customize your characters. Control how your avatars look, talk, move, and interact.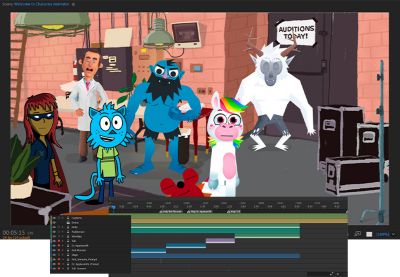 See what you can do with Character Animator.
Animate a puppet with your webcam gestures.
When I move, you move. Learn how to link your own gestures to animation triggers and bring a character to life.
Create a basic body.
Find out how to build a simple character with animation-friendly facial features and limbs.
Control a character with triggers.
Make your characters do more than just talk. Discover how to make them blink, move expressively, and use hand gestures.
Create motion from the ground up with Adobe Animate.
Build frame-by-frame animation or design high-quality animation rigs for movement you can assign to any asset. Create footage for desktop, mobile, video games, and television.
Control every aspect of animation from storyboard to final visual effects. Make footage that can integrate with other Adobe Creative Cloud apps like Adobe Photoshop and After Effects. Whether you're making motion graphics, 2D, or 3D animation, Animate has the tools you need to turn concepts into content.
See what you can do with Animate.
Create a 2D character animation.
Explore how to turn existing assets into a fully realized 2D animated vector character.
Auto lip-syncing.
Find out how to streamline the lip-syncing process in animation, matching your artwork of mouth poses to real sound inflections.
Import from Photoshop or Adobe Illustrator to Animate.
Animate integrates smoothly with other Creative Cloud apps. Find out how to bring motion to still images from Photoshop and Illustrator.
Take your animation further.
Take your cartoon animation even further by creating animated explainer videos for your audiences.
Video and animated content does far better than photos when it comes to social networks and the internet in general. For example, people are more likely to view and comment on your Instagram stories if they're animated. You can even revive a boring PowerPoint presentation with a GIF.
One way to animate an image is to learn how to do it in Photoshop. Bear in mind that it requires time, patience, and certain skills. For those of you who don't feel like investing too much time and effort into the task, there are plenty of other tools and apps that can help you animate still photos online.
How To Animate Still Photos Online
The following photo animation tools allow you to turn a static photo into a dynamic image in just a couple of minutes. Some of them let you remove and add things to your photos that weren't in the original pictures. This software will be useful for both professional designers or photographers or for those who are just getting started learning about photo editing.
1. PixaMotion
Price: Free.
PixaMotion is a free photo animation app that can pretty much do it all. Thanks to the sleek modern design that will probably remind you of other photo editors, the app is easy to navigate. You can animate your photo, add audio and moving elements from the app's gallery to it, as well as apply photo filters. The main purpose of the app is creating short loop animations.
PixaMotion has a few different animation modes. You can choose whether you want to animate the whole picture or just certain elements of your photo, which direction you want them moving, as well as "pin" some parts of the photo to keep them still.
When you're happy with your animated picture, you can select to save it as video or as a GIF. PixaMotion has a paid subscription available, but even the free version of the app allows you to download your pictures without a watermark.
Download: for iOS, Android.
2. Plotagraph
Price: Free mobile app, or paid subscription from $19.99 per month.
Plotagraph is an online picture animation software that's a part of The Plotaverse Suite of motion art apps. All of the apps are available with the Plotaverse subscription plan for $19.99 per month or $99.99 per year (with a free 30-day trial). If the price seems too steep to you, you can use the free version of Plotagraph on your smartphone.
Plotagraph has a few different photo animation modes that put you in full control over the animation's direction and speed. Other tools this software offers include masking tools, overlays, photo filters, and a neat option to add audio clips from the app's gallery to your animation.
Plotagraph only allows you to export your animated still photos in video format, so you'll have to use other software if you want to turn it into a GIF.
Download: for iOS, Android.
3. Movepic – Photo Motion
Price: Free, VIP subscription starts at $1.99 per month and includes 7-day free trial.
Movepic is a beginner-friendly photo animator that you'll probably fall in love with. Inside the app you'll find the standard number of tools like directional animation, camera motion, and speed controls. It's very effective when it comes to animating still photos.
What makes Movepic stand out is a vast gallery of effects that you can use to enhance as well as completely transform your photo into a dynamic animation. The software recognizes photo elements like the sky or water and has a number of animated filters to turn your scenery into one from another world.
The only downside of the app is that Movepic adds a watermark over your animated picture when you export it in the free version of the app.
Download: for iOS, Android.
4. StoryZ
Price: Free, Premium subscription available from $1.99 per month.
Although looking a little less stylish, StoryZ offers all the same functionality that Movepic does. You can use camera motion tools, choose the direction of your animation, as well as add photo effects, filters, and overlays to transform your picture.
Unlike Movepic, StoryZ allows you to save your animated picture in both video and GIF format. Plus, if you're willing to sit through a short ad, you can remove the watermark when exporting your image.
Download: for iOS, Android.
5. GIFMaker.me
Price: Free.
If you don't want to download any apps or go through the registration process, you can use GIFMaker.me to animate your photos. This tool allows you to animate still photos online as well as turn videos into GIFs.
You can use this tool online via your web browser. Compared to other apps on this list, GIFMaker.me is less sophisticated. The app requires you to upload each frame (or image) separately to create an animated GIF. The maximum number of images you can upload is 300.
After you have all of the GIF parts ready and uploaded, select the desirable canvas size, animation speed, how many times you want the loop to repeat, and click Create GIF Animation. Additionally, you can upload an audio URL to add music to your GIF.
6. 3Dthis
Price: Free.
3Dthis is a unique photo animation platform that has a number of different built-in apps for creating photo animation and 3D models. From creating 3D models of people's faces to morphing animations – 3Dthis has an app to turn any of your pictures into 3D images and add volume to any objects on your picture.
This online software has a somewhat outdated interface and might not look like much, but with the help of 3Dthis you can create your own ready-to-print 3D designs for free.
Should You Animate Your Photos?
Some photos are perfectly fine as they are and don't need to be turned into GIFs or looped videos. However, if you have run out of content to share on your social media, the online tools and app from this list can be very useful. Photo animation software can easily make even the most boring picture Instagram-worthy.
Have you ever tried to animate still photos? What software did you use? Share your experience with photo animation in the comments below.
Anya is a freelance technology writer. Originally from Russia, she is currently a full-time Remote Worker and Digital Nomad. With a background in Journalism, Language Studies, and Technical Translation, Anya couldn't imagine her life and work without using modern technology on a daily basis. Always looking out for new ways to make her life and location-independent lifestyle easier, she hopes to share her experiences as a tech- and internet-addict through her writing. Read Anya's Full Bio
Animations can make for a more engaging user experience in our React apps.
To make good looking animations, however, can be a great deal of work and can require a lot of code.
I am going to show you how to use a very powerful library with React to make stunning, pixel-perfect animations that enhance your apps, without a lot of work.
Introducing the Lottie Library for React
The library I'm talking about is called Lottie. Lottie provides a totally different way of creating impressive animations by using animations that are produced in the popular program Adobe After Effects, which are imported and exported as JSON files.
And best of all, to find and use these animations, you don't need to have the program Adobe After Effects.
How to Use LottieFiles
All you need to do is to use a completely free resource called LottieFiles. It's a site that hosts tons of free and paid Lottie animations.
Let's say we want an animated React logo in our application (note that you can use any animation that they make available).
I'll personally choose the following React animation from LottieFiles in which the React logo is spinning. From there, we can preview it and change things like the background color.
When we're ready to use it, we can download the animation's JSON file by selecting Lottie JSON:
Regardless of how you've created your React project, you can put it in whatever folder you like. You can put it in the static folder in the root of your project or you can put it in an animations folder in the src folder.
It is up to you, as we will be importing the JSON data from whatever the file path may be.
I chose to put my JSON file (called react-logo.json) in my static folder:
How to Install Lottie-Web
Once that's done, we'll install Lottie by bringing in the package lottie-web .
Note that there is an alternative Lottie package available called react-lottie , but it uses lottie-web under the hood which can be easily used directly as you'll see in just a moment.
Once lottie-web is installed, we can place our animation within any JSX element by giving an indication that we want it to live in a certain selector.
The best way to do this is by using the id attribute, since it should only be used once across our app's elements.
In our case, we could give it the id value of react-logo :
To use Lottie, we can import it from lottie-web and we'll import the JSON from wherever we placed it:
How to Use Lottie with the useEffect Hook
Using Lottie itself is simple. We need to get a reference to the JSX/DOM element that we want to put the animation in and give it the JSON data.
To interact with the DOM itself, we'll need to make sure the component has mounted, so we'll use useEffect to perform a side effect and pass in an empty dependencies array.
In useEffect , we can now call lottie.loadAnimation to run our animation, by passing it an object. On this object, the first thing we'll need to provide is the container, the DOM node that we want this animation to be run in.
We'll can use any method we want to reference the DOM node; I'll personally use document.getElementById('react-logo') .
And with that container, we just need to supply the JSON data itself on a property called animationData .
After that you should see the animation run automatically:
If you have the same code I have, and have your animation running in an empty div, it will look huge.
You can fix that by providing some styles and adding a fixed width and height for the container div:
Lottie.loadAnimation properties
Along with container and animationData, there are some other important properties that we can pass to loadAnimation to change the animation's appearance and function.
Above, I've included all of the default settings for loadAnimation . The default way the animation is rendered is as SVG, with the renderer property. This has the most features, but the HTML option can be more performant and supports 3D layers.
The animation loops or repeats infinitely by default because loop is set to true. You can turn this behavior off by setting it to false.
The animation's autoplay setting is by default true, meaning the animation will play automatically when it is loaded. If you wanted to conditionally run the animation, you could set it to true or false by using a state variable (say if you wanted to play the animation only when it was visible).
How to Add Lottie Light
Finally, the last thing I'll mention about Lottie is that lottie-web is a rather large dependency.
If you would like to use all of its features but are concerned about bringing too much code into your final bundle, you can import the light version of Lottie as follows:
Final Code
Hopefully this post helped you get up and running with Lottie as a neat feature to add to your React projects when you're looking for something special in your web apps.
Check out the CodeSandbox link if you'd like to play around with the final code yourself.
Enjoy this post? Join The React Bootcamp
The React Bootcamp takes everything you should know about learning React and bundles it into one comprehensive package, including videos, cheatsheets, plus special bonuses.
Gain the insider information hundreds of developers have already used to master React, find their dream jobs, and take control of their future:
Learn how to turn yourself into a hilarious animated version of your favorite celebrity with Reface.
Animated pictures seem to be all the hype in the world of digital creativity. And developers aren't letting us down.
Reface, a face-swapping app, lets you animate a wide range of images such as antique portraits, memes, and paintings with your own face. It also lets you animate your selfies with animations of celebrities.
If you want to know how to swap the Mona Lisa's face for yours while making silly expressions, then keep reading.
How to Animate Photos With Your Own Face on Reface
Reface's face-swapping technology is called Swap Animation, and there are two types of face-swap features on the app that utilize it.
Animate Image applies an animated image to the photo that you upload, resulting in your picture taking on the expressions and movements from the animation. Swap & Animate embeds your face onto an animated image of a celebrity, a famous portrait, or a drawing by various artists.
Below, we'll show you how to use both of these features.
Download: Reface for iOS | Android (Free, offers in-app purchases)
How to Use the Animate Image Feature
Here's how to animate your photo with an animation:
Open the Reface App, tap the plus (+) icon at the bottom, and select Animate Image.
You'll be directed to your photo library from where you can select your image. You can also take a selfie by tapping the camera icon at the top-right.
Now, after the app analyzes your photo, choose an animation from the popup (tap See All to view all of them). Each animation comes with a music clip or audio. Tap Choose, then hit Reface.
To demonstrate how to create HTML animations with JavaScript, we will use a simple web page:
Example
Create an Animation Container
All animations should be relative to a container element.
Example
Style the Elements
The container element should be created with style = " position: relative ".
The animation element should be created with style = " position: absolute ".
Example
Animation Code
JavaScript animations are done by programming gradual changes in an element's style.
The changes are called by a timer. When the timer interval is small, the animation looks continuous.
The basic code is:
Example
id = setInterval(frame, 5);
function frame() <
if (/* test for finished */) <
clearInterval(id);
> else <
/* code to change the element style */
>
>
Create the Full Animation Using JavaScript
Example
We just launched
W3Schools videos
COLOR PICKER
Get certified
by completing
a course today!
CODE GAME
Report Error
If you want to report an error, or if you want to make a suggestion, do not hesitate to send us an e-mail:
Thank You For Helping Us!
Your message has been sent to W3Schools.
Top Tutorials
Top References
Top Examples
Web Courses
W3Schools is optimized for learning and training. Examples might be simplified to improve reading and learning. Tutorials, references, and examples are constantly reviewed to avoid errors, but we cannot warrant full correctness of all content. While using W3Schools, you agree to have read and accepted our terms of use, cookie and privacy policy.
DigitalOcean joining forces with CSS-Tricks! Special welcome offer: get $100 of free credit.
Here's a nice simple demo from Moritz Gießmann on animating the triangle of a
element, which is the affordance that tells people this thing can be opened. Animating it, then is another kind of affordance that tells people this thing is opening now.

Turn off the default triangle: details summary::-webkit-details-marker < display:none; >. You can't animate that one.
Make a replacement triangle with the CSS border trick and a pseudo element.
Animate the new triangle when the state is open: details[open] > summary::before < transform: rotate(90deg); >.

This only animates the triangle. The content inside still "snaps" open. Wanna smooth things out? Louis Hoebregts' "How to Animate the Details Element Using WAAPI" covers that.

Here's a fork where I'll combine them just because:

I see Moritz put the cursor: pointer; on the summary as well like Greg Gibson suggests.

Comments

You can also animate the details element with just css.

Less smooth than the JS solution.
But also a nice solution via css only.

The cool thing about the internet is you share something amazing and people will share something amazing back. ❤

Here is the pure css version that works like your final version that uses both css and js.

That's cool. I didn't know it yet. Thanks for the work from you and Moritz. stay creative!

Is there a way to animate closing with just CSS?

Yes, with a trick similar to that using a checkbox.
Move the content after the element and use your preferred way of hiding with the sibling selector details:not([open]) + .content .

Reason:
The element hides its content programmatically. CSS can't delay that, thus the closing animation happens after the content is hidden.

Further barrier:
Animating height requires a pre-calculated value, auto won't be animated. If the content's height is not fixed then JS is required to measure the content and store the height in a CSS variable.

A CSS-only solution is still possible by animating other properties.
If the content is absolute positioned then animating opacity is a good way to show/hide.

If the content is within the document flow then some other trick is necessary. Animating margin-top of the content's children to a big enough negative value can be a solution, albeit inefficient and hacky. But it works. Good for a no-JS fallback and if JS is enabled, it can do proper heigth animation. That however adds more maintenance and testing time.

To make a framework element fade in and out of view, you can animate its Opacity property or you can animate the Opacity property of the Brush (or brushes) used to paint it. Animating the element's opacity makes it and its children fade in and out of view, but animating the brush used to paint the element enables you to be more selective about which portion of the element fades. For example, you could animate the opacity of a brush used to paint a button's background. This would cause the button's background to fade in and out of view, while leaving its text fully opaque.

Animating the Opacity of a Brush provides performance benefits over animating the Opacity property of an element.

In the following example, two buttons are animated so that they fade in and out of view. The Opacity of the first Button is animated from 1.0 to 0.0 over a Duration of five seconds. The second button is also animated, but the Opacity of the SolidColorBrush used to paint its Background is animated rather than the opacity of the entire button. When the example is run, the first button completely fades in and out of view, while only the background of the second button fades in and out of view. Its text and border remain fully opaque.

Example

Code has been omitted from this example. The full sample also shows how to animate the opacity of a Color within a LinearGradientBrush. For the full sample, see the Animating the Opacity of an Element Sample.

Can you have your cake and eat it too? Can you create an insanely professional animation with a platform that even Fluffy your dog could master!?

YES! You can make a character move and spin and sing "Baby Got Back," in only 6 steps.

How to Make Your Own Animation

1. Choose a RIDICULOUSLY Awesome, SUPER-EASY automated software animation program.

Logic dictates that if you start with a hard, complicated software program, then your journey to creating animated videos will be hard and complicated. So choose right from the get-go and you'll have an easy ride.

Lucky for you, advancements in technology have created a new era of super-easy, automated animation–making software. This means making cartoon videos no longer requires time-consuming programs. No more spending a few days learning the software. No more building animations from scratch. The world works on instant gratification, and the platform that can give this to you is the one you need.

Powtoon is the instant gratification of the animation–making world. Don't get me wrong, programs like Toon Boom and Photoshop are great, but they just aren't that easy to use, and they aren't as quick to learn.

2. Write Out Your Goal in One Sentence.

Once you have selected the EASIEST animation software on earth, you can jump right into it. First, define the goal of your animation. Are you creating an advertisement, a short movie, a video resume, or a business presentation? What's the purpose of your animation? Write it down in one sentence, right now.

3. Script Time!

Now that you know your objective, you need to fill in the magical words of your script. We have an amazing tutorial all about powerful scriptwriting, but if you want a quick fix, then these are the top 3 essential tips:

A. Pull them in – "I knew that I was a good dad the day my daughter brought me her first fish." Huh!? Start off with a sentence that piques curiosity and has an element of surprise or plays on emotion.

B. Introduce yourself – at some point in your script introduce your company, product, or yourself. Who are you? Are you someone I should rely on, or are you a source of entertainment?

C. End with a bang – whether it's a call-to-action, an appreciative thank you, or a powerful life lesson, your animation should end with a punch.

4. Choose your cartoon characters from a collection of pre-made characters.

Ever heard about the paradox of choice? It's a psychological phenomenon that occurs when people are presented with too many options. Instead of being excited about so many different choices, the opposite happens; people become overwhelmed and frustrated, leading to a state of paralysis and indecision.

When it comes to animation, there are so many micro-nano details that it can cause the brain to OVERLOAD, aaaaarghhh! Do you really need to be staring at the computer screen, editing pixels, choosing from 50 shades of grey or fixing the texture of a body part? NO! It is much easier and faster to choose from a collection of pre-designed characters and then customize them to look and move the way that you want. Choose an editing program that lets you do this; You show the cartoons whose boss!

5. Set the Tone

Bring your characters to life. Should your cartoons be silly and goofy, set behind a template of rainbow fields and flying bubbles? Or would you like serious business suit profiles and city skylines? Hey, you may not even know which style or characters will work best until you set them to action. So try them out, the right program should let you test out different characters, icons, and scenes with a click of the mouse. This is why it's great to have a wide range of pre-made options!

6. Add your Voiceover/ or Music

Add your Voiceover/ or Music The last and final step has arrived; adding audio or sound effects! It is time to bring your animation to life. Will you narrate your script or add an awesome background beat (or perhaps both)? If you choose to record a voiceover, then grab a glass of water and a mic, clear your throat and start speaking. Your platform should have a free recording tool and a library of music at your fingertips (thankfully Powtoon does!). But, If you don't have recording tools on your platform, we can recommend a few. Wellsaid enables you to generate speech from text.Bunny Studio is great for outsourcing voiceovers. And, you can hire a voiceover artist on Fiverr through Powtoon to record for you. If you would like to use a piece of audio from an existing recording, then download Audacity.

Or… You can just ditch the voiceover. If your animation has speech bubbles or does such a great job visually telling your story, then just simply add music. Download your favorite songs and let Beyoncé or Frank Sinatra do the work for you!

7. You are Done.

Yes, I'm serious, congratulate yourself. I only added this last step in because, well it's really fun to cross things off of lists.

There you have it, you just made your own animation in 6 steps!

Animation makers have come a long way. New animation software now gives EVERYONE, including you and me, the ability to become our own animators! So, take advantage of the era of instant gratification. Go ahead, make your own FREE awesome animation… Before your dog beats you to it!

Copy link to clipboard

Please excuse my frustration. I'm surprised not a single person on planet earth has asked this question before. that or there's just not a clear answer to this problem for Adobe Animate.

So I copied a symbol and pasted it onto another frame. I forgot to convert it again to a new symbol so that whatever changes I make will not affect the original symbol. Since I made too many changes on the original symbol its beyond undo.

So my question is. does Adobe Animate create a folder that has previous autosave version(s) of the file? If so, where do I find it? If its an option that I don't have turned on, where do I find that on the Adobe Animate program?

If this is possible, could you just give me a simple direction like: Windows (C:) > Program Files > Adobe > Adobe Animate CC 2018.

Also, don't mix this up with AUTO-RECOVERY, yes I know those files are located on the same folder as the same file you're working on. Though, I'm not asking about auto-recovery.

Also, also. my File History is turned off. so I don't know if that is 1 solution for this situation.

1 Correct answer

Copy link to clipboard

C:\Users\\AppData\Local\Adobe\Animate CC 2019\en_US\Configuration

Copy link to clipboard

Thanks for your response!

Where do I go from Configuration? I'm guessing its the tmp folders? But they're empty.

Copy link to clipboard

i t might be in the Temp folder (per the below info), if you have auto-recovery enabled. but i think it will be in the folder i indicated, not a subfolder. to test:

open animate and start a test fla. don't save (if that's what you did with the problematic fla). wait your auto-recovery time. open task manager and force animate to quit. reopen animate. if auto-recovery is enabled animate should offer to recover the test fla. note the directory of the test fla and check it for your problematic fla.

When enabled (the default setting), this setting saves a copy of each open file at the specified time interval, in the same folder as the originals. If you have not saved the file yet, Animate saves the copies in its Temp folder. The file names are the same as the originals, with "RECOVER_" added to the beginning of the file name. If Animate quits unexpectedly, a dialog box appears when you restart to allow you to open the auto-recover file. When you exit Animate normally, the auto-recover files are deleted.

Starting Animate CC 2015 release, Animate does not create unnecessary auto-recovery files. An auto-recovery file is created only if the document is modified after the last auto-recovery files were created. Auto-recovery file is removed only after completing a successful save operation. To avoid continuous loop of auto-recovery for short auto-recovery duration, snapshot for all files modified after last auto-recovery are created at each auto-recovery interval. Next auto recovery timer is started only after this process is completed.

Intention¶

In this tutorial, you'll learn how to use GIMP 's layers in a different manner. Unlike it's default composite function, using GIMP as an animation package requires you to think of every layer as of an animation frame. We'll discuss the two different frame disposal methods later on. For now let us think about every layer as of a separate frame.

Step 1¶

We'll create a very simple web banner. Let's start with a new image 468×60 px. Use white as the background color. Create new transparent layer. Select the whole image with Ctrl+A and fill it with black ( Ctrl+, ). Shrink the selection by 1 px ( Selection → shrink ) and delete the selection with Ctrl+K . We created a 1 px frame around out banner.

Now it's time to put our logo or the main theme picture into the banner. I have prepared a masked-out flower you see on the picture on the left. I just pasted the flower below the border frame, used alpha to selection, created an empty layer below it and filled the selection with black using Ctrl+, . After that I blurred the shadow using Gaussian blur RLE and offset it by 2px to bottom right. I couldn't resist adding the interlace effect using Filters → Render → Grid and a layer mask. In that layer mask i applied a b/w gradient, so that the left of the flower is not interlaced.

This part of the tutorial is not the key element, so feel free to experiment. Once you're ready flatten the image using the Image → Flatten Image .

Step 2¶

Now we're ready for the actual animation work. We will be creating a banner consisting of, say three lines of text being animated. Each frame will consist of the flower image and accompanied by some text. I don't want to make this boring, so lets make it three frames. The first step will naturally be to copy our flattened image two times using the duplicate layer button in the layers window.

Then we'll use the standard text tool to put a small text note on every frame. After typing the text onto the frame, GIMP will create a floating selection, that you need to position right using the move tool and anchor using Ctrl+H . The positioning might be crucial for the final animation, so you can use the following trick to make the positioning a piece of cake. Before using the text tool, set the layer (frame) transparency to a lower value, so you could see the layer below it. That way you can position the newly created text acording to the text below (on the previous frame).

Step 3¶

In every GIF animation you are allowed to specify the delay between frames. That way you can create a 12 second animation using only a few frames, because the delay does not have to be constant. In GIMP you specify the delay as a layer comment. Just double-click the layer comment in the layers' window and a delay in ms enclosed in brackets ().

To check if the timing is good, you can preview the animation using the Filters → Animation → Animation Playback . You can even drag the preview around your desktop.

Step 4¶

In the last step, we'll use a very handy function for applying a filter to multiple layers. This function is provided by GAP , the GIMP Animation Package. Please go to the "Using GAP " tutorial to learn more about the tool.

Before we can apply this effect, we need to create a new image out of the third frame. This is as simple as dragging the layer preview from the layers window to the toolbar. Now duplicate the image four times. With a rectangular select tool, draw a selction around the text. Now we're ready to apply a gaussian blur filter on every layer using varying parameters. Use the Filters → Filter All Layers function and select plug-in-gauss-rle2 from the list and press the apply varying button. The blur dialog pops up. Now we need to specify parameters for the lowest layer in the stack, ie. our first frame.

We want to blur the text away in time, so for the first frame, let's specify a lower value. We'll blur in horizontal direction only, so let's make it v:0 h:2. After you click OK another dialog shows up. Here, choose continue and specify parameters for the last frame. We'll go for 20 px horizontal blur. You can backup the progress, but for now we will make the filter apply on all layers inbetween by clicking on continue in the next dialog. All we need to do now is to drag the layers back to the original image.

Step 5¶

Now we only need to save our animation as GIF . Before we do that, let's optimize the animation using the Filters → Animation → Animation Optimize function. This will create a new image using a different mode than what we have now. You can use two different modes for every frame of your animation. You can either use the replace mode (default), which will replace the old frame with the new one. It's like taking the frame out before adding a new one. The other is the combine method, in which the new frame is added to the previous frame. That way only changes need to be updated. That's what animation optimize basically does. The file size gets tremendously smaller. Now we need to index the image using Image→ Mode → Indexed function ( Alt+I ).

Try to use as little colors as possible and avoid dithering. Both number of colors and dithering tend to enlarge the filesize dramaticaly. I used no color dithering and generated 32 color pallette. The file size of the banner is about 7kB. If you now save the image as GIF , GIMP will ask whether it should save the image as an animation, which is exactly what we need. In the save as GIF dialog, you can specify the default delay (in our example it will be used for the blured frames) and disposal method. You can use your WWW browser to check the animation, or you can use the animation playback function in the animation section of the image menu.

Sprite images are 2D bitmap graphics found in several games and other media. If you have ever played 2D games like Final Fantasy VI, Chrono Trigger, and the more recent title, Octopath Traveler, you are already familiar with sprites in games.

Creating and animating sprites allows game artists and developers to control characters and objects independent of the larger scene.

Sprites can be stationary or animated, depending on their function in the larger scene or project. Video game consoles like the Commodore 64, Nintendo Famicom, and Atari systems are iconic for their game design innovation using only 2D sprite animation.

With a colorful history like that, how do you get in on the creative action?

Animating A Sprite

Let's look at some of the basics when it comes to sprite animation.

How Do You Animate A Sprite?

Animation sprites, while some of the more simple forms of virtual art, you most likely won't be able to pick it up on our first try.

First, we recommend that you get ahold of some sprite sheets or create your own sprite. Have an original character you've been meaning to animate? Now's the time!

A sprite sheet is an outline of all of the actions you want a character to perform. If your character is running, you need to animate sprites performing each move in a single frame.

The sheet itself displays everything, and the sprite maker must choose what action to render.

The Heart of Every Sprite Sheet

Cycles and frames are the two main things that make up every sprite sheet. What you see of a sprite sheet is a bunch of frames, all aligned and ready to be animated. When someone finally puts some animation magic into their creations, those frames become cycles.

Cycles of frames are what make the sprite animation what it is.

In The Legend of Zelda: A Link to the Past, images of Link holding his sword in different positions are frames, while the action of him swinging the sword is the cycle of all of those frames put together.

Now that we know a little more about what sprite sheets are, let's see how we transition frames in sprite animations.

Slicing Sprite Sheets

If you want to cut your sprite sheet down considerably to separate the images, it's pretty simple to do. This is perfect for creating small gifs. There are plenty of methods and tools to slice your image, either by tile size or the number of columns and rows.

An excellent resource is the online sprite sheet cutter at EZGif.com. It also allows you to split and decompile your sprite sheets.

Coding Sprite Sheet Animations

Which Command Will Show Animation for Sprite?

The 'Next' command. Simply type in the command 'next' with whatever you want to show. For example, 'next move,' or 'next look.'

How Many Frames Do You Need for Sprite Animation?

It depends on who is creating the frames. If you are a rookie sprite animator, you might want to stick to a lower amount of sprites. It would be best if you accounted for frames for every action a character does. So a character could have ten walking frames, five jumping frames, and ten running frames. 24-40 frames are pretty standard.

You don't want to overburden yourself with a ton of frames, so don't let your animation get too busy. It also depends on how many megabytes and resolution you are working with.

Sprite Animation Tools

Here are some fantastic tools to use to animate sprites, create your own cycles, and improve your frames.

Piskel the Free online sprite editor

This is a great sprite editor that you can use to create and animate sprites right in your browser of choice. You can create your very own gallery and export it to your file format of choice. Piskel gives you total control, even giving you the liberty to use your creations in commercial projects.

Sprite Sheet Animator

Sprite Sheet Animator is perfect for any sprite maker who wants to get right into a project. It includes different dimensions of the sprite you can format and build upon.

You can quickly animate sprites once you have filled out the proper measurements and artwork from either the web or your computer. You can even make an animated gif, all in one place.

Aseprite – Animated sprite editor & pixel art tool

This fantastic little sprite editor allows you to create, animate, and edit sprites right in one place. The retro style and sheer amount of options make it ideal for any aspiring sprite animator.

You have color palette control, animation modes, looping playback, different brush sets, and nearly every export option available.

It costs $20. You can try it out with the trial version, but be warned: you can't save any projects in the free version.

BobSprite – Free Online Sprite Editor

Like Piskel, BobSprite is a fantastic, simple sprite animator that allows you to create from your browser. All you need is an updated version of Google Chrome or Mozilla Firefox. Click any screenshot on the BobSprite page to launch the application and start drawing!

You can apply animation effects to PowerPoint and animate text in the presentation slides. There are different effects available that you can use to animate your text but the easiest way to animate text is experimenting in the following way:

First, open your PowerPoint presentation and add some text. You can use the textbox area or create a new slide and enter some bullet points. Then you need to select the text area and look for Animations -> Animation options. Here you can pick any animation from the gallery (like Teeter or Spin in the example below) and then you will see a quick preview.

If you want to see it in action you can open the PowerPoint presentation in slideshow mode and then run it to see how it looks. There are many different animation effects that you can control, and every new animation effect has its own options so you can start experimenting and see how it works. For example,

Finally, if you want to animate line by line in a bullet list you can do that by clicking on Effect Options and then choose animations by Paragraph.

You can use this technique to animate your welcome slide for PowerPoint presentations and prepare modern slideshows with animated text and transitions.

Microsoft PowerPoint is one of the best programs to create presentations and very popular worldwide. One of the best features is the capability to create animated PowerPoint presentations to attract your audience attention, in fact we have published lot of free animated PowerPoint templates for presentations. Today we are going to show you how to animate tables in Powerpoint.

First of all we need to create a table at PowerPoint, fill it with the content you want to show. Make sure the format you give to the table is the want you are willing (it gets complicated trying to modify it later on).

Then select the table and go to Layout> Selection Pane.

Now select your table and make copies out of it as much as you need (Ctrl + D for the shortcut). Try to replace the "Content Place Holder" for a more intuitive name like "Table 1", "Table 2", etc…

Now you just need to arrange your tables as you wish them to appear.

This is a handy way to create multiple tables and animate them to pop more information at each slide.

There is a trick to animate each individual cell in a PowerPoint slide Table. In order to do this, you need to ungroup the table cells and then apply different animation effects to each individual cell. This is a good way to show animated cells or letting cells appearing at once. Next time you need to animate a table in PowerPoint remember what you have learned in this article.

Migration Is Natural: Jess X. Snow

The Backpacker Intern: What He Wants You to Know

Make iOS Stickers with Syd Weiler

Bring your video into After Effects and choose a small portion to animate. To begin, drag your reference footage into Adobe After Effects. Create a composition from the video layer. Beware—rotoscoping is a tedious process. Animating one second of motion might take you as long as thirty minutes, so don't select a long clip unless you have plenty of time on your hands.
Double-click the brush tool ( ) on the video to create a paint layer. Once this is created, you can select your paintbrush as well. In this example, I created my black outline using a brush with a 15 px diameter. The color scribbles beneath were roughly twice as thick. You can mess around with the settings in this menu and use whatever you would like.
Set your frame duration in the "paint" panel. This will indicate how many frames of motion your paint strokes will be on-screen for. The lower the number, the longer it will take you to animate—but the more complex the animation will be. For fast-moving motion, you will want to work with single frames. However, slower video footage works fine with a frame duration of 2 or even 4. It's okay to switch the frame duration throughout this project depending on the speed of the video's motion. In this example, my dancer's arms move faster than his legs. For most of the video, I used a frame duration of 1 for the upper body and 2 for the lower body—though I used single frames for faster sections of legwork as well. Once your paintbrush has a color, size, and duration, you may begin painting over your first frame!
Use the command key and arrow keys to advance to the next frame. If you have finished your first frame, press the command and arrow keys at the same time to skip to the next frame in the reference video. (If you are using a frame duration of 2, you'll have to press the right arrow key twice, since you're skipping two frames.) To delete a brushstroke or change its duration, click the down arrow beside "effects" in your timeline window. Open the paint layer. You should be able to see all of the brushstrokes you have created, each spanning the number of frames it occupies onscreen. Scroll until you find the brush you would like to delete or modify. You can delete a brush using your computer's delete key or modify the length of a brush by dragging the beginning and endpoints back and forth in the timeline.
Make the video invisible. For most rotoscoping projects, you'll want to remove the original video reference and add a background of your own. Open the paint layer, like we did in the previous step, and change "paint on transparent" from off to on.
Click back into the main composition to view your animation. Close the paint layer by going back to your original composition. (The tabs usually appear along the top of your project window.) Drag the playhead to the beginning and press the spacebar to watch your animation from beginning to end.

If you enjoyed this tutorial, it's only the beginning of what you can do using Adobe After Effects' drawing tools! Discover everything that you can do with brushes, stamps, and erasers. Are you a current student? See how you can save up to 60%.