Metallic colors have always been a favorite of mine, especially when it comes to weddings. After all, who doesn't love a little tasteful shimmer? I personally love gold, and these days, from jewelry, home interiors, make up, and even clothing, rose gold has become a massive hit! If you are looking for a wedding full of sparkle and glamour, then add a touch of this lovely romantic metallic into your wedding color scheme.
If you're not sure how best to include it, the mood board below shows a few ideas of how to add subtle touches of rose gold to make your wedding day glisten.
Try a few small items here and there, like in your jewelry, hair accessories and shoes, and sprinkle several small rose gold elements into the decorations. Candle holders and other table-top items are perfect for this. Or, for a more statement look at your wedding, use fewer but larger pieces like sequined rose gold tablecloths or table runners. If that's too much for your liking on reception tables, use them on smaller, accent tables where your guestbook or escort cards will sit. Bouquets are also a perfect place to add in this beautiful color—use rose gold ribbon in the wedding bouquets with flowers in beautiful creams and pinks. Have your florist use champagne-colored ribbon on the boutonniere. Sprinkle rose gold, red and pink flower petals around the reception tables. Try including a gold vase to your reception tables to add a beautiful, yet simple, touch of shimmer to your event.
One of the most impactful places to add gold is on your dessert – think a multi-tiered cake that is etched with gold leaf. Is this too much for your liking? Try a metallic dessert stand or rose gold cupcake toppers. They also make cupcakes with gold sprinkles! Include light gold silverware or napkins for your guests to use while eating. You can even have your napkins customized with foil-press in gold for a subtle touch of color.
Signage can be a great way to add hints of gold on your big day. Use a gold-colored frame with acrylic glass to write out a "Welcome" sign. Write your escort cards in metallic-colored paint pens. Create your table numbers on gold stands. Add "bride" and "groom" signs to the back of your chairs at the reception and create them in a shimmery, rose gold color. Do you have a wedding #hashtag? Make signs with it written in gold to post around your venue.
Use gold on your wedding day in subtle, yet meaningful, situations that will be sure to leave your guests in awe. Give away gold confetti for guests to toss as the couple exits the chapel. Set-up a metallic backdrop for your photo booth stand. Add a champagne table and make "Pop, Fizz, Clink" signage to place next to the glasses. Give away gold-colored party favors, such as ivory and gold colored macaroons, rose gold "Mint to Be" mint boxes, or key-shaped bottle openers.
You girls asked for eye makeup tips that would help enhance all of the gold in your eyes – and we're delivering! I've scoured the internet, finding all of the eye makeup tips that will enhance the gold in your eyes and truly help pull the gold right out. So you ready to explore all of my eye makeup tips that will highlight the gold and really make your eyes pop in just the right way?
1 Gold Eyeshadow
It might seem like an obvious thing, but if you are really looking for eye makeup tips that really make the gold pop out, why not use a splash of gold eyeshadow? Gold eyeshadow around the rims of your eyes and along your lids can really bring out the gold highlights in your eyes and really draw out those beautiful hues!
2 Violet Eyeshadow
As you probably already know, violet is one of those awesome colors that can bring out all of the beauty in green eyes, but what you might not know, is that this eye makeup tip is all about the gold too! Violet and deep purposes can actually really enhance the gold in your eyes too! Give it a try and tell me how you like it!
3 Dark Purple Liner
If you really want to amp up the gold in your eyes and really draw it out, one surefire way to do it is by putting on some purple eyeliner! Trust me on this one girls, dark purple eyeliner can really highlight the gold accents that might be in your eyes and can even draw out the green in your eyes! Purple eyeliner is one of my favs – what about you girls?
4 Deep Browns
While you might think that gold eyeshadow and some purples are the only colors that will draw out the gold in your eyes, that is not true at all! Deep browns such as espresso and chocolate can also draw out and highlight the golds in your eyes. Whether you are using brown eyeshadow or just lining your eyes in it, this eye makeup tip totally works!
5 Brown Mascara
Brown mascara is another eye makeup tip that can really draw out any and all of the gold enhancements that you have in your eyes. For me, I coat my lashes twice in mascara (Maybelline Stiletto for me!) to really make them look lush and stand out. Have you ladies ever tried brown mascara?
6 Cocoa Eyeshadow
Cocoa eyeshadow is one of my favorite colors and just like gold eyeshadow, this is another way to draw out the deep golden hues in your eyes. You can coat your lids in this particular eyeshadow and even slide it under your lower lash line to really make your eyes appear dramatic.
7 Pale Pinks
This eye makeup tip is all about pale pinks and how they can draw out the gold accents in your eyes. Pale pink, especially a mauve pink color is a great way to really pull out the gold. Again, I'd coat both your lids as well as under your lower lash line so that you can draw the color out completely!
8 Deep Greens
Finally girls, the last eye makeup tip that we're going to talk about is all about deep greens! Deep greens and even lime greens are a great way to really draw out the gold in your eyes and make them really pop. Personally, green eyeshadow and liner are some of my favorites!
So girls, you asked for it and we delivered! These are my top eye makeup tips that can really help you draw out the gold in your eyes! So, do you have any other eye makeup tips that you'd like to see?
How would you like an easy, affordable way to add luxurious gold to your silver jewelry designs, creating even more value and beauty without breaking the bank on tools or supplies? Keum-boo is just that, and other than the gold foil–which is surprisingly affordable considering, because, you know, gold–keum-boo uses tools that you likely already have in your studio.
I was kind of amazed to learn that jewelry makers could do keum-boo at home. I had no idea until Joe Korth's keum-boo video came out and I saw that it's not only doable by any metalsmith with average experience, but it's so easy! What a great way to stretch your jewelry supply budget and add interesting accents of rich high-karat gold to your jewelry designs. Even that tiny bit of gold makes a big visual impact and increases the value (real and perceived) of your jewelry.
What Is Keum-boo?
Keum-boo is the ancient Korean technique of applying very thin sheets of pure 24-karat gold to silver. As the technique expanded to Japan, China, and throughout the West, the under-metal options used in keum-boo expanded also, to include steel, iron, copper, white gold and other colored gold alloys, lesser-karat gold, platinum, and other metals–even aluminum, because keum-boo requires no flame and little heat. It doesn't get much more affordable than that!
Why Use Keum-boo for Metal Jewelry Designs?
I don't know about you, but the cost of silver has been so high in recent years, I haven't even bothered paying attention to the price of gold. But keum-boo uses so little gold (in gold foil form), you can get a lot of bang for your buck. It's a truly affordable, impactful way to have the look of rich warm gold in your jewelry designs.
By laying incredibly thin sheets of gold foil onto silver and other metals, you can create eye-catching contrast between the white or rose and gold metals and especially between gold and darkened silver. It's an easy, chemical-free form of gold plating that creates a lot of gold surface area on top of less costly metals. Laying gold over textured metal really helps highlight the texture, too.
Soldering gold is different–you need different materials, different techniques–not to mention the fact that you're working with a really expensive material, should something go wrong. Keum-boo allows you to have the look of pure gold without any intimidating and potentially very costly processes. No torch required!
How to Create Keum-boo in 4 Easy Steps
Keum-boo sounds mysterious and complicated, like a metalsmithing technique that only true masters can do–but for silver, it's really as simple as these four steps.
Depletion gild the sterling silver.
Heat the silver with a low-heat source like a hot plate or mug warmer.
Place thin gold foil on the hot metal.
Secure the foil with a polished steel or agate burnisher.
See how easy that can be? I'm itching to try it now and I bet you are, too. All of the detailed steps and helpful hints are available in Joe Korth's five-star-rated video, Keum-Boo Techniques: Add Gold Foil to Silver Jewelry. When's the last time you learned about a really artistic metalsmithing or jewelry-making technique that you could do with tools you already have? You can do this ancient art in your own home with a few basic tools–while you create eye-catching contrast, highlight texture, and add value with the richness of pure gold.
This week, Your News to Know rounds up the latest top stories involving gold and the overall economy. Stories include: Fund manager says gold could double in price, now is the right time to buy gold, and silver prices are getting ready for a big jump.
Now is likelier than ever for gold to double in price, says fund manager
Different funds have different approaches, and that of the Quadriga Igneo is a defensive one. Its gold-heavy allocation definitely paid off over the last few years. More notably, the fund's manager Diego Parrilla accurately predicted that gold would move past $2,000 last summer. Not long after, gold went on to post a new all-time high of $2,070.
Parrilla is no less bullish on gold now than he was last year, and expects the metal to once again surprise investors. As some ponder gold's day-to-day price fluctuations, Parrilla has focused on the larger picture. That's a smart way to keep an eye on the forest without getting distracted by the trees. Parilla sees big changes in the next 3 to 5 years, a timeframe in which he believes gold will climb to $3,000 and possibly as high as $5,000.
Parrilla said that market watchers are grossly underappreciating the long-lasting effect that the monetary stimulus will have on the economy because it appears to have not done any severe damage in the near-term, even though there have already been spikes in inflation across the board. Specifically, Parilla said:
Central bank money printing isn't really solving problems, it's delaying the problem. Gold will benefit purely from being a physical asset that you cannot print.
Certainly, gold benefits from the rush to safety in tough economic times. Gold is most popular during stock market crashes, and incredibly beneficial during periods of high inflation.
Parrilla noted the upcoming decade will see inflation that central banks can't rein in, despite what officials are saying. He listed historically low interest rates as an example of a risk that investors might be underestimating, and one that tends to support gold's price.
Here's why: Many investors consider both gold and short-term U.S. Treasury notes as highly-liquid, safe-haven assets. Gold, however, doesn't offer a yield. When interest rates are high, short-term notes and bills can offer interest payments as an incentive to investors. When interest rates are low (and especially when they're well below the current rate of inflation), the opportunity cost of choosing gold as a safe-haven investment disappears.
In near-zero interest rate environments with high inflation as well, gold truly shines.
Why J.P. Morgan Chase thinks now is the right time to move into gold
A recent analysis from the J.P. Morgan Chase wealth management department discussed when and how investors might want to buy gold, and why now might be a good time to get started. (Some investors aren't particularly concerned with timing, because they know gold is a good investment regardless of when one buys in.)
The data certainly corroborates this. As of July 29, the price of gold has appreciated 579% within two decades, and has since inched slightly upwards.
That's quite surprising for an asset that has no yield and pays no dividends. Maybe more surprising for what's thought of as the safest of safe havens. The security that gold offers in the long term looks especially appealing compared to the kind of short-term volatility we see in the stock market, attracting both opportunistic investors and day traders.
Samuel Zief, Head of Global FX Strategy at J.P. Morgan Private Bank, said that gold's lack of correlation with any other asset is what sets it apart. Opting to invest in physical gold also ensures that holders are free of any counterparty risk. Any kind of turmoil, inflation risks, U.S. dollar concerns and Treasury yield slumps are scenarios that attract people to gold, bolster its appeal and drive prices up.
While portfolio diversification doesn't require market timing, those looking for a good time to buy gold might get their wish fulfilled. Rising inflation and sinking interest rates are often a signal for investors to move into gold, and it is precisely the kind of environment that has been on full display this year.
CPM Group: $24 silver will likely be a signal for a move above $28
CPM Group's Jeff Christian spoke to Barron's about what could turn out to be a buying opportunity for silver investors in the short-term before the metal moves onto $28 and possibly towards the highs seen last August. As Christian noted, silver currently faces selling pressure due to tepid price action in the market, a strong stock quarter and the U.S. dollar holding its ground.
Because of this, many investors who bought silver early last year could exit the market sometime in the next two months. This could bring prices to $24, and in doing so, signal a move up that might bring about fireworks not unlike those of last year.
"If you see $24 an ounce prices, then buy it because the probability is that we'll see $28 soon. And ultimately, it will move higher over the next several months," said Christian.
The view that a dip would present a buying opportunity goes in line with CPM Group's general expectations for the precious metals market. In a recent statement, the firm elaborated on their bullish forecast: "CPM Group believes that precious-metals prices are presently in the foothills of a much larger increase in the prices of these metals over the next several years."
If you've been blessed with brown eyes, then you'll know that most eye makeup looks are flattering on you. But did you realise there are certain eyeshadow shades that can really help to bring depth and dimension to your gaze?
We asked Code8 store manager and Colour Maestro Ana to talk us through the best eyeshadow looks for brown eyes and how to create stunning makeup looks with them. From sparkling shimmers to warm neutrals, read on to learn all the eyeshadow colours that can make your brown eyes brighter than ever before.
Earthy Colours
One of the most subtle makeup looks you can create for brown eyes is done with light earthy tones. Look to colours like peachy apricots, light pink and coppery shades that will help bring out the warm flashes of green and gold your eyes have in them. By drawing out these undertones, your eyes will instantly appear more vibrant, whether they are hazel or deep chocolate coloured.
Ana's favourite palette for nailing an eye makeup look on someone with brown eyes is the Iconoclast Eyeshadow Palette in Lustrous Corduroy. She suggests applying one of the two lightest shades from the palette all over the lid with a fluffy brush, following up with the shimmery terracotta shadow in the crease to add definition.
Mystical Metallics
Metallic eye makeup looks for brown eyes are the perfect way to make your gaze glisten. Opt for copper and gold shadows as well as warm-toned glitters, as these all help to make your eyes shine. If you don't have a shimmery shade like that in your own makeup collection, try using one of your bronzers or highlighters instead. They are usually the perfect hue for enhancing brown eyes, Ana explains.
The Highlig ht HD Palette in Between Two Women is a perfect duo of rose gold and bronze, both of which will draw all the attention to your brown eyes. The unique formula contains pre-baked pearls and light reflecting particles, making it an ideal choice for a dramatic eye look. Using your finger or a wet brush sweep either of these shades over your lids and slightly under the lower lash line.
Rose gold decor. Retrieved 3/27/2017 http://southbank-ipcmedia-com.s3-eu-west-1.amazonaws.com/roomideas/live/styles/static_large/s3/Rose-gold-and-pink-living-room.jpg?_=a760944c55a3bf87342a1b9c2a0b62c1
A trending color that is taking appliance and furniture by storm is Rose Gold. Rose Gold is the perfect pop of color for your home. This color adds a certain level of chic to any room in your home. It's the perfect hello darling statement piece that your home needs. Below are some simple enhancements that you can do to yourself.
Rose Gold Kitchen details, Image retrieved from:https://www.pinterest.com/pin/124974958388953059/, Image retrieved by: Johnakeshia on 3/24/17
Adding rose gold handles to your cabinets will give your kitchen the ultimate pop of color. Changing your kitchen knobs, handles and water faucets to rose gold is a simple yet modern statement piece. Goodbye to over decorating your kitchen appliance. Simple is chic!
Rose Gold Pillow Accents. Image retrieved from: https://www.pinterest.com/pin/503136589601011220/; Image retrieved by Johnakeshia on 3/24/17
Don't call it a makeover! Adding a few rose gold vases or pillows in with your furniture is perfect. This can be achieved by a simple DIY or you can purchase it. It is a budget friendly way of updating your living room without getting rid of all of your furniture.
Rose gold wall color.Image retrieved from:https://www.pinterest.com/pin/381469030919160260/, image retrieved by Johnakeshia on 3/24/17
This color is everything! Spruce up any room in your home by adding a pop of color wall. Paint one of your focal point walls rose gold. This color is the new black and it looks amazing with Grey! The benefit of this color is that it can be used all year long. So you don't have to change the color throughout the season changes.
Written by: Johnakeshia Thompson , Assistant Editor, Modern Domestic
The most romantic of all metals, rose gold as a color is great for adding a touch of warmth and glamour to your outfit. We stock many frames that can be purchased with a stylish rose gold finish. Although often seen as feminine, a wire-framed, rose gold glasses frames can look sophisticated and bold on a man too.
A rose gold finish on your eyeglasses strikes a perfect balance between luxury and warmth. While providing a similar aesthetic to traditional yellow gold, rose gold adds a little extra character and passion to your frames. The romantic vibe given off by rose gold is undeniable!
Top Picks for the Season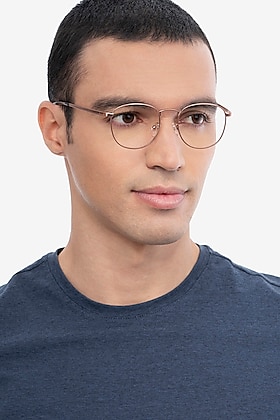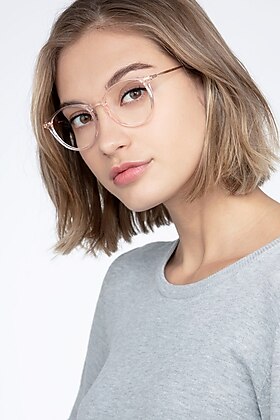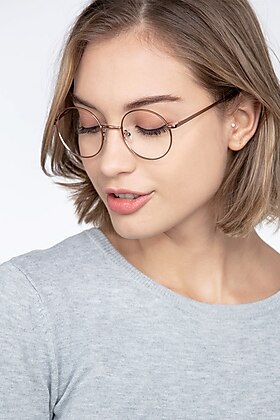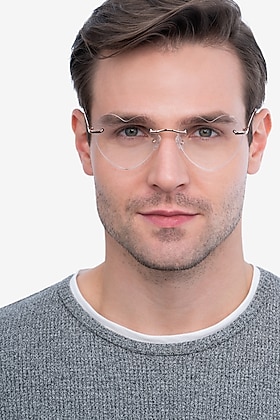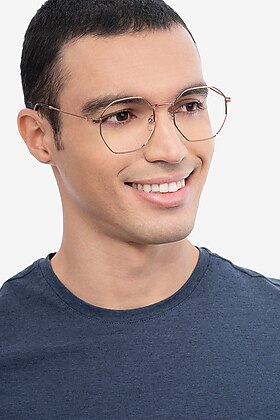 Style options in rose gold
Color matching Rose Gold eyeglasses
Rose gold can be seen as a warmer, more neutral version of classic yellow gold. This warmer tone makes it great at bringing out the natural color found in warm skin tones. That being said, because rose gold is relatively toned-down compared to its flashier cousin, it can match well with almost any tone.
Rose gold glasses for women
The warmth of rose gold means frames in this color will work well with earthy tones. Consider pairing rose gold eyeglasses with browns, khakis, or grays. Rose gold can also work well with brighter colors like light blues. This color is adaptable, so feel free to experiment!
Cat-Eye Rose Gold Eyeglasses and Other Shapes
Many of our wire-framed, metal eyeglasses are available in rose gold. This color works well with a delicate style of frame. We have various women's rose gold eyeglass frames, including the ever-popular cat-eye rose gold eyeglasses, but a few of our unisex eyeglasses can be purchased in this color too!
Features of rose gold glasses
Endless lens options
Want a set of light-adjusting, high index, rose gold eyeglasses? No problem! Like all our products, rose gold eyeglasses are available with no prescription, making them great if you love the look but don't need vision correction.
Your frame material
Many of our rose gold styles are made with metal. Metal frames are extra-durable and have a luxurious, premium feel. You'll also find rose gold glasses frames in acetate. This type of skin-friendly, plant-based plastic is one of the best materials for eyeglass frames.
Extra details for rose gold eyeglass frames
The small, subtle details really make a frame. Adjustable nose pads make it easier to find a comfortable fit for some people and prevent your glasses from slipping down your nose. Temple tips bring some extra color to the sides of your eyeglasses and make your glasses fit more snuggly behind the ears.
When it comes to eye shadow, picking the right shade for your eye colour is just as crucial as coordinating it with your clothing. Here's the lowdown on your most complimentary colours.
YOUR EYES ARE BROWN…
Brown eyed girls can get away with wearing most shades – lucky you. But if you really want to accentuate your eyes look for shadows in salmon, bronze or gold; these shimmering products will highlight any gold flecks or undertones in your eyes. If your eye colour veers towards hazel, then try warm metallic hues or aubergine tones that highlight hints of green. If you want to get that "pop" effect, then use vibrant blues, greens and pinks for contrast. Or, if you have very dark, almost black eyes, then add intensity with dark eyeliner and smoky eye makeup. Dark eyes are able to carry off the sultry evening shades we all love.
YOUR EYES ARE BLUE…
Avoid heavy, dark makeup if you have blue eyes. Overly smoky eye makeup will only compete with your eye colour, which is why you should stick to light and neutral tones. If you have very light blue eyes, try coral and champagne coloured eye shadows. Or, a bronze or rose coloured metallic cream will balance the cool tones. All sound too plain? Well then a rusted orange or purple will offer an exciting contrast.
YOUR EYES ARE GREEN…
Your eyes are naturally bright, so you don't have to wear dark eyeliner or vivid eye shadows to attract attention. Instead, charcoal or brown liners won't overpower but will frame your eyes beautifully. Earthy tones, like warm browns and taupe will compliment your eye colour, or for more of a contrast, opt for purple – lavender, violet and lilac, any shade goes! To bring out the flecks in your eyes try a shimmering bronze, gold or silver.
This Dhanteras, as gold pours in abundance at jewellery stores, it's time to make it work for your makeup routine as well. If you're wondering just how the glimmer of gold can lend itself to your Diwali makeup, we've got the answers. This Dhanteras, these 4 simple tricks will easily add a Midas' touch to your makeup look.
1. Add it to your eyes
Now here's a trick that's right up every makeup lover's alley – gold on the eyes. Over your lids, dust a shimmery gold eyeshadow for a gleaming wash of colour. If an all-out dose of sparkle isn't your thing, then opt for a gold eye liner. A few strokes of it over your lash line is enough to add pizzazz to your makeup look.
2. Get those gleaming lips
Ever thought gold tones would be used to pucker up? Us neither! This Dhanteras, apply a lipstick in metallic gold tones all over your lips. Choose one that's high on reflective shimmer as it'll lend a high shine to your look. Ta-dah! That's all you need.
3. Bring out that glow
If there's one thing that the festive season demands, it's fresh, radiant skin. Even if you've skipped too many healthy meals, you can fake it till you make it with gold toned highlighter. Dust it over your cheekbones, nose bridge and cupid's bow to lend your face a luminous glow.
If experimenting too much with makeup isn't in your wheelhouse, then painting your nails in a metallic gold shade will be your solution. Just choose a sparkly gold nail polish and get painting your digits. Safe and stylish, it'll lend a glimmer to your Dhanteras for sure.