Plus, they're easily rotated and swapped out as new trends come in (and they don't cost as much – win!).
If you're wondering how to decorate a bathroom without spending a fortune, look no further than bathroom decorative accessories. We've rounded up six savvy bathroom ideas for a bathroom freshen up that won't bust the budget.
Dark tones
Bathrooms with darker tones are a hot trend. But changing the whole bathroom can be expensive. Adding some black bathroom accessories is a great way to try out the trend without going all in.
Take a look at these dark tone ideas:
Gallery ( 3 images )
Love black bathroom accessories? Try adding body care products to a marble tray. Picture: Hampton Home & Co.
Greenery is here to stay
If you're looking for fresh bathroom accessory ideas, then greenery is your go-to. Whether you opt for low-maintenance indoor plants or no-maintenance artificial plants, adding a touch of greenery will instantly elevate the space.
Small bathroom decor: kokedama are long lasting, low maintenance and a great alternative to a potted plant. Hang it, leave it, water it every few weeks and enjoy it in your bathroom – no mess, no fuss but lots of benefits. Image supplied by Kokedama by Jac.
Plants love the bathroom as the lighting is usually bright, the temperature just right and the humidity means most indoor plants will thrive. Picture: Kmart
Wooden wonders
Wooden bathroom accessories are a great way to level up your bathroom decor game. If you love the look of wood, but worry about water damage, opt for bamboo accessories instead – they're wet room friendly and look beautiful.
Modern bathroom decor: bamboo ladders are perfect for displaying towels, even hanging plants, and they're functional too. Picture: Kmart
Want to include timber elements in your bathroom but lacking space? Try adding smaller functional items made from wood or bamboo.
Modern bathroom decor: bamboo ladders are perfect for displaying towels, even hanging plants, and they're functional too. Picture: Kmart
Small but mighty
More from Lifestyle
The 5 best bathtub views in Australia
Selling your home: 6 style mistakes to avoid in the bathroom
Looking for small bathroom accessories? The worst thing you can do in a small space is over style it – too much decor will make the room feel cluttered. Instead, add small but functional decor. If you like the look of stone or marble bathroom accessories, try adding in small pops like a toilet brush holder.
Toilet decorating idea: add a stone or marble toilet brush holder. It's perfect for modern toilet decor. Plus with the gold-look handle, it gives you a bit of the gold bathroom accessories trend, too. Picture: Kmart
Luxe spa style
A bathroom should be a sanctuary. Create spa vibes by styling body care products on a portable tray with some florals – it will soften the space, and make the room feel luxurious and calm.
Thinking about blue bathroom accessories? Try styling body care products on a blue tray with a floral accompaniment. Picture:
Maybe marble
Marble in bathrooms seems to be a trend that's here to stay. If you don't want to fork out the big bucks for high-maintenance marble countertops, adding marble bathroom accessories is a great way to incorporate the trend.
Love the look of designer bathroom accessories? Adding a marble tray styled with beautiful candles will add a luxurious touch to the bathroom. Picture: Hampton Home & Co.
related tags
Editor's pick videos
We thought you might like.
Bathroom Ideas
10 ways to give your bathroom a luxe makeover
Bathroom trends set to take off in 2016
5 art prints for the bathroom
Australia's top bathroom design trends of 2017
Win a Caroma Cleanflush rimless toilet worth over $1K!
Let's get steamy: 5 clawfoot baths to lust over
Lifestyle
Other Sites
Popular Searches
Disclaimer: The information published in this section is of a general nature only and does not consider your personal objectives, financial situation or particular needs. Where indicated, third parties have written and supplied the content and we are not responsible for it. We make no warranty as to the accuracy, completeness or reliability of the information, nor do we accept any liability or responsibility arising in any way from omissions or errors contained in the content. We do not recommend sponsored lenders or loan products and we cannot introduce you to sponsored lenders. We strongly recommend that you obtain independent advice before you act on the content.
Facebook
Twitter
Pinterest
LinkedIn
YouTube
Personalised advertising: We show you more relevant advertising based on your activity. Prefer us not to? Opt Out of personalisation
Mismatched fixtures, fading overhead light, dulled old tiles and color theme are common pitfalls of rental bathrooms. Though renovation may be completely out of your control, it's all a matter of knowing the right accents, cover-ups and clever decorating tricks! Here's how to get luxury for less and make yourself comfortable in your own private sanctuary regardless of living in a rental:
Image: A Teen Vogue Editor's Stylish Rental Bathroom Makeover
1. Add Art.
Paintings, small sculptures, crafts, whether hung or set atop shelves, never fail to create a striking impression. Exquisite works of art each hold its own story and character, thus presenting uniqueness in bath areas big or small.
2. Baskets.
Keep your bathroom tidy and clutter-free with baskets of all sizes and materials like rattan, wicker, or woven plastic. Apart from being highly versatile as bins that can hold almost anything from bath essentials to plantlife, baskets bestow class with its texture and ornate appearance.
Freshen up with a new shower curtain or sew one yourself to express your style with plains, prints, and patterns. You may also want to dress your windows with curtains or use a decorative window film to secure privacy, and overlook an unsightly view at the same time.
Image: THE EVERYGIRL
4. Cover Up with A Rug.
Modern day finds the most luxurious bathrooms defined by trending Turkish kilim. Brighten up your rental bathroom and lighten anyone's mood with the authentic splash of color and fun personality radiating from a floor rug.
Image: AMBER INTERIORS
5. Plants.
The beauty of plants in the bath cannot be skipped. Nature's elements can be easily incorporated, stimulates relaxation, and are almost effortless to maintain within the humid environment.
Image: art direction by HonestlyWTF, styled by Bianca Sotelo, photography by Ashley Batz
Wooden craftsmanship is simply gorgeous. Bath shelves made of wood are not only beautiful but highly functional. It's perfect for small spaces for added storage, staying organized, and creating a stylish bath within your abode.
Most rentals have outdated fixtures in its bath area, and it's not that hard to update them and keep up with the trend. Simply change out the shades, spraypaint, or replace the fixture itself. Consider using a state-of-the-art industrial adjustable option rather than standard flushmount wall sconce, which arrives in a variety of interesting styles to suit your home.
Image: Megan Pflug
A large mirror instantly elicits a spacious look. The design also makes a big difference, such as the distinctive charm of a rustic wooden frame with a vintage feel or the sophistication of a contemporary bath mirror.
Rental bathrooms often exhibit a lack of built-in storage. Non-slip bath caddies not only adds extra compartment, but gives you the convenience of having all shower essentials within reach. This accessory typically arrives in suction-cupped, tension-mounted, or can be silicone-glued without causing any damage to wall tiles.
10. Vinyl Floor Cloths.
One of the hardest things to change in a rental bathroom is the flooring. Not anymore. Vinyl floorcloths provide a refreshing alternative for dressing up your bath space with your imagination as the only limit! This non-slip, lay-flat material can be easily sprawled on the floor, fit into corners, and removed when needed. his vintage-style pattern is from Spicher & Co.
Fill that boring blank space with beautiful artwork, lush plants and extra storage.
Related To:
Repurposed Wine Box
Add warmth to an all-white bathroom with wooden wine boxes that double as beautiful storage containers. Bring in additional interest to the design with uniquely shaped mirrors and a gallery wall made up of pages from an Old Farmer's Almanac.
Go 3-D
When artwork just won't do, get clever by hanging an unexpected three-dimensional object, like this gorgeous piece of driftwood.
Stylish Hats
Keep your favorite hats in a handy spot as you get ready for the day.
Through the Looking Glass
Make a small powder room feel significantly bigger by covering the walls in framed mirrors.
Extra Storage
Simple wood shelves add ample storage for toilet paper, towels and bathroom essentials. A couple of house plants bring even more life to the design. See more details of this bathroom makeover here >>
Themed Artwork
Maintain a cohesive look and pick artwork that goes with the theme of the space. Framed prints of colorful robots pair perfectly with this funky robot-patterned wallpaper.
Woven Wall Hanging
A pretty handmade wall hanging adds a bit of Southwest flair to this desert-inspired powder room.
Bathrooms are often the smallest space in a home, but that doesn't mean they can't be big on personality or style. Follow these tips for decorating your small bathroom.
Step 1: Pick a theme
A bathroom is supposed to be a sanctuary. It's the place you get ready for your day — or wash off the vibes of the one you've already had. So before you start decorating, it's important to decide on a theme, style or vibe you'd like your bathroom to echo. Are you looking for a space that's energizing? What about relaxing? Maybe you're looking for something more exotic. Deciding between these elements will help you choose the colors, fixtures and accessories — and how to balance them.
Step 2: Choose one standout feature
When decorating a bathroom, it's important to create a focal point. Bathrooms tend to be small and adding too many décor elements (bold walls, a standout countertop, a large shower, etc.) can make the space feel cluttered and unwelcoming. So focus on one element you want to highlight. Accessorize with natural/neutral elements. If you want your countertop to sing, pick light tones for your walls. If you want to install moldings, avoid buying any other large or bold accessories (they may make the space feel smaller than it actually is). This will create balance.
Step 3: Clear clutter
Washrooms often become the most cluttered spaces in a home (packed with the towels, products and accessories we use to get ready for work every morning). This can create chaos in an otherwise small — and supposed-to-be-relaxing — space. So clear your bathroom of any needless items that may overwhelm it. Toss beauty products in wicker baskets. Get roll-out drawers or trays to store your makeup. Buy an armoire to house towels and soap in a neat and organized way. By banishing clutter, you'll create a more open and airy space.
Step 4: Spend your money in the right places
Buying great accessories for your bathroom need not be expensive. All you have to do is know when and where to spend your money. Since you — and your guests — will be wrapping yourselves in towels, don't scrimp on quality. Ditto for fantastic smelling soaps and hand creams. But the rest of your washroom's accessories — like a toothbrush holder, a toilet bowl cleaner or a shower curtain — can be bought inexpensively at any design store.
Step 5: Open up the space
The best way to add an air of elegance to a teeny tiny bathroom is to make it feel larger than it actually is. Paint the walls a neutral color. Add an elongating mirror. Add lattices or moldings to make the walls feel taller. Combined, these elements can make your space look like it's befit for a mansion – instead of a bachelor or one-bedroom apartment.
Step 6: Choose the right lights
Natural light is one of the best ways to create a relaxing bathroom atmosphere. If you don't have a window in the vicinity of your washroom, pop into your local hardware store and ask them to find some inexpensive, eco-friendly bulbs. Doing so will up your bathroom's spa-like air, and will also make your space feel larger and more natural than it currently is.
Step 7: Get scented
Catering to your sense of smell is one of the easiest ways to make a space feel larger and more welcoming. So whenever possible, befit your bathroom with lovely scented products: from soap to air freshener and even flowers. This will give the ever-so-small space an air of openness.
The tips on how to decorate a long narrow bathroom will help you to decorate the bathing space. You can make it more comfortable. The beauty of the house is seen from the bathroom decoration. If the bathroom is dirty, ugly and uncomfortable, the people hope that they can move into a new house with better bathroom. Actually you can do a simple remodeling project to make the bathroom unique and nice. Make sure that the traffic flow in the bathroom is maintained. You have to provide enough space for the people to walk in and out of the bedroom. Check the interesting tips for comfortable bathroom design below:
How To Decorate A Long Narrow Bathroom: Tip 1 The Measurement In The Bathroom
The first thing that you can do is measuring the available space in the bathroom. You have to note on the width and length of the bathroom to determine the shower space, tub, closet and other structures in the bathroom. Thus, the long and narrow bathroom can be decorated without feeling cramped and uncomfortable. Don't forget to decide the wall height. If you have a low ceiling, use the light tone to make it look higher. Find ways on how to decorate long bathroom vanity here.
Classic Long Narrow Bathroom
How To Decorate A Long Narrow Bathroom: Tip 2 The Floor Plan
The next thing that you can do is determining the floor plan for the long narrow bathroom. You can use a graph paper to draw the floor plan in the bathroom. Notice the lighting, electrical outlets and plumbing.
How to Decorate a Long Narrow Bathroom
How To Decorate A Long Narrow Bathroom: Tip 3 The Best Layout
Long Narrow Bathroom Decor
How To Decorate A Long Narrow Bathroom: Tip 4 The Sink
Avoid the deep sink. Choose the sink in low depth. One of the best options is by installing a pedestal sink. If you decide to rearrange the fixtures in the long narrow bathroom, you can hire a professional plumber to do it for you.
Long Narrow Bathroom Design
How To Decorate A Long Narrow Bathroom: Tip 5 The Amount Of Light
The amount of light in the long narrow bathroom should be increased. The bright bathroom will look more spacious. You can install more windows in the bathroom. If you concern with the privacy value, you can decorate the windows with modern roman shades. Or you can install sheer curtain. It can maintain privacy without blocking the natural light.
Just because it's a small space doesn't mean you can neglect it! Here are some simple tips on how to decorate a small bathroom.
Our downstairs bathroom is not only the smallest bathroom in our house, it is also the most used bathroom! Since it sees a good amount of use by my kids and our guests, I wanted this room to look nice, yet still be kid-friendly and functional!
The simple design I came up with is both beautiful and budget-friendly, and I love how it turned out! Take a look at what it looks like now and take note of a few tips and suggestions I think you might find helpful.
How to Decorate a Small Bathroom
1 – Light, neutral paint can really open up the space.
Don't try and get fancy with the paint in this bathroom. Keep it neutral so you don't draw attention to how small the walls really are. Bright accent walls will make the space feel closed in. Wall treatments will do the same. Think simple. Think light.
2. Set a focal point.
When I was first thinking about a focal point for this room, I was thinking I'd need a smaller piece of artwork, or even a cluster of small framed photography. In my head I thought, "It's a small room. I need small decor." I tried several smaller arrangements on my walls before I finally brought in this 24 x 18″ print from Minted and I immediately fell in LOVE! It is amazing how this BIG focal point opens the room. This space feels so much bigger than it did with the smaller pieces. And it totally makes sense when you think about it. Less is more. 1 big piece looks way less cluttered than 2, 3 or 4 little ones!
This Minted print is amazing, isn't it? I grew up in Southern California and that golden coast will always have a piece of my heart! When I saw this print, I knew it would be the perfect way to bring a piece of "home" to my new home in Arizona. I absolutely love it! It's a high-quality print in a super nice frame. Since it has been on display in my bathroom, I get compliments all.the.time.
If you're looking for a beautifully unique piece for your home, check out the Fine Art Prints from Minted.com. (You'll be glad you did!)
3. Accessories are Everything.
You'll need the basics – extra toilet paper, soap, hand towels, air freshener and a trash can. You don't need to spend a fortune on these, but you want them to look great since they could be the only design elements (aside from your focal point) that you'll have in the room.
I wanted to bring in some textures into our bathroom, so I used a wooden stool with soft white towels stacked on top. My extra toilet paper is in an aluminum basket, and I also have a metal bucket for our trash can. I added a small floral arrangement and light frame for some color, and then picked up some pretty air freshener and soap to round it all off! (Stay away from a boring can of Lysol and the industrial orange Dial soap dispenser, will ya?) 
I'll be the first to admit, I am not a fan of having a rug next to a toilet. (Ew.) But this was the last thing I added to the space after I thought I was already finished. "It just needs something MORE", I kept telling myself. I reluctantly brought in this rug and suddenly my fear of a smelly, stained carpet by the toilet disappeared! Not only does the rug add some more color, it also grounds everything and makes this space feel complete and cozier. I've learned it isn't hard to toss a bathroom rug in the laundry, so we are getting along just fine!
RUG TIP –
At first I thought this rug was just slightly too big because one of the legs from the brown bench sits on top of one of the rug's corners. But this actually helps hold the rug in place, making it easy to straighten out when it gets pushed around.
Sometimes, therapy comes in the form of a clawfoot tub.
Cool and soothing blue is a natural fit for the bathroom. These stunning bathrooms, ranging in everything from teal to navy, will inspire you to add a blue hue to your space.
The Cole and Son's Woods wall covering gives this tiny powder room a breath of fresh air. Designer Ashley Whittaker incorporated understated stainless steel and wooden shelves to contrast the eye-catching wall design.
This playful Palm Beach powder room is striped from head to toe. The walls, ceiling, and door are given a dose of whimsy with light blue stripes.
Meg Braff stayed away from bright, royal blues and instead opted for a dark teal to blend in with the darker hues of the powder room. She finished it off with Vaughan sconces and Newport Brass sink fittings.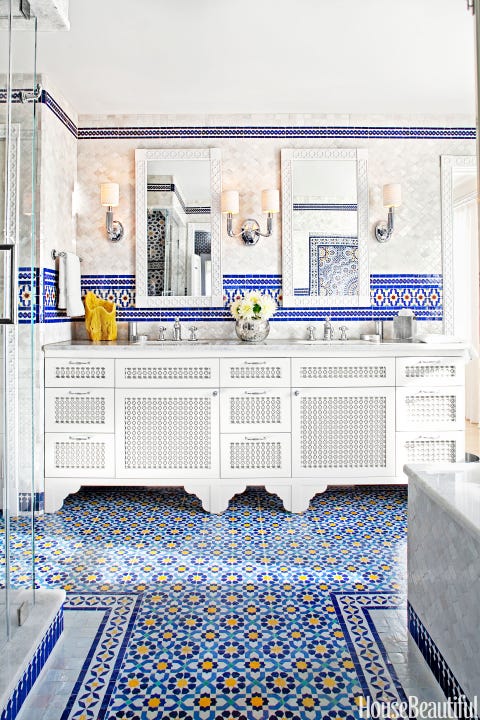 Designer Kyle Timothy Blood added the fun feel of Morocco into this Cape Cod home with a T-shaped carpet of tile in a Moroccan pattern. The tile and woodwork, from Mosaic House, gives this master bathroom big personality.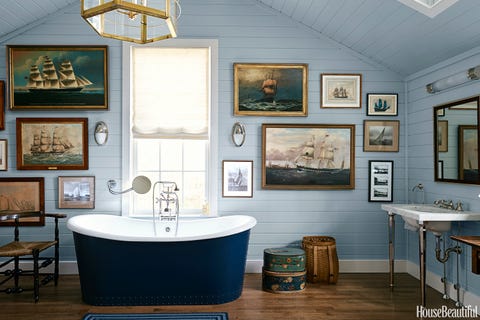 To uphold the homeowner's fascination in marine life, Alexandra Angle gave this spacious bathroom a nautical vibe. Both the tub and walls are painted varying shades of blue to match the collectors items scattered about.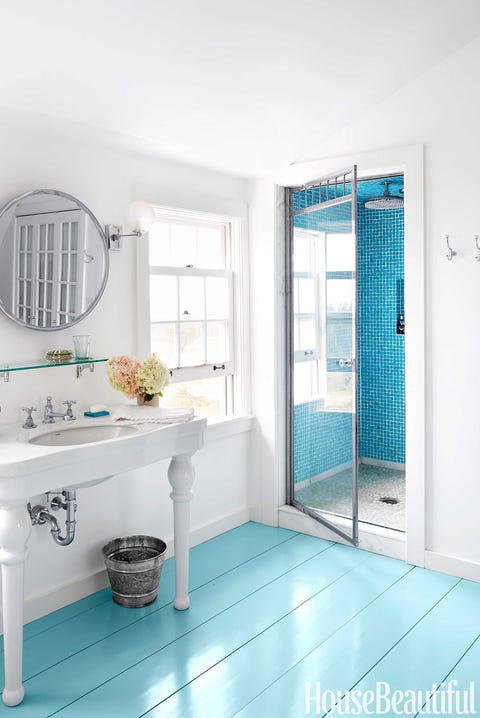 Kari McCabe teamed up with her husband to turn their farmhouse bathroom into a bright retreat. Blue tile and painted floors add color to the white space.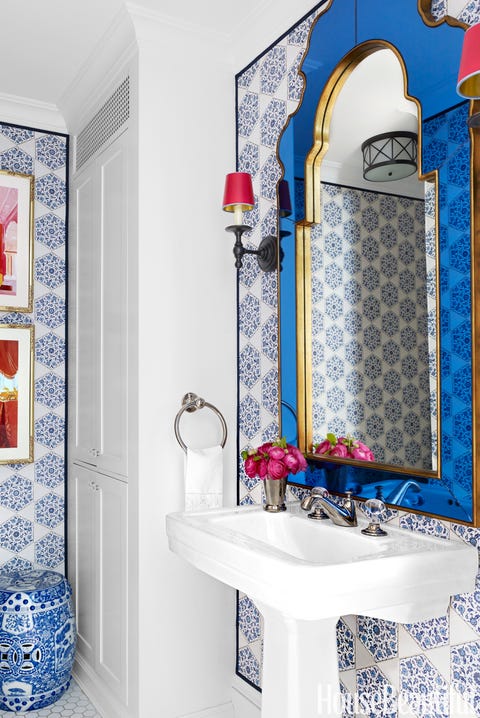 To add a playful touch to this Manhattan apartment, Mark D. Sikes added bold artwork and decorative pieces, including his favorite blue and white ottoman. Iksel's Iznik wallpaper stands out behind the stunning blue-trimmed mirror.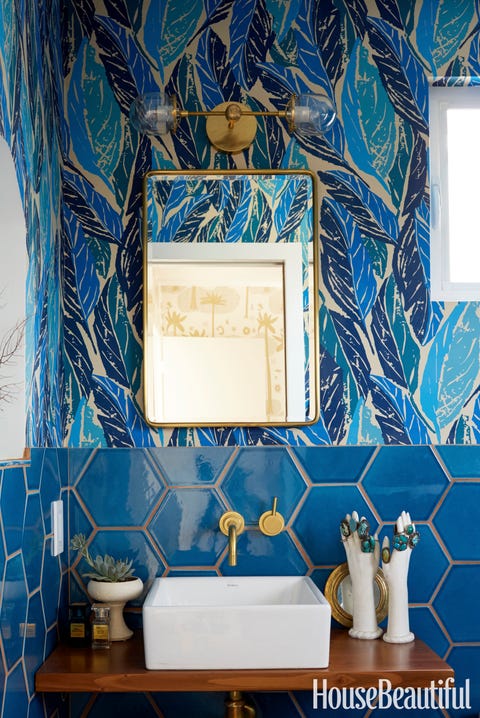 The wallpaper in the master bath is Nana, with Cosmic Desert in the bedroom, both by Blakeney for Hygge & West. The mirrored medicine cabinet is by Pottery Barn.
" />
This bathroom, designed by Justina Blakeney, uses contrasting patterns — and textures — to give the small space added interest. The Adriatic Sea hexagonal tiles continue to the shower and the feathered wallpaper allows the gold hardware to pop.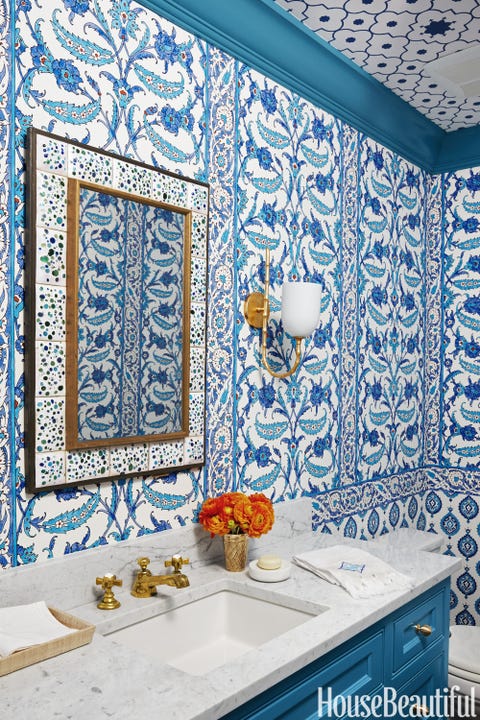 A twist on a a classic, Andrew Howard transformed this bathroom into a blue and white paradise. Every inch of the room is covered — wallpapered walls, painted cabinets, and a patterned ceiling.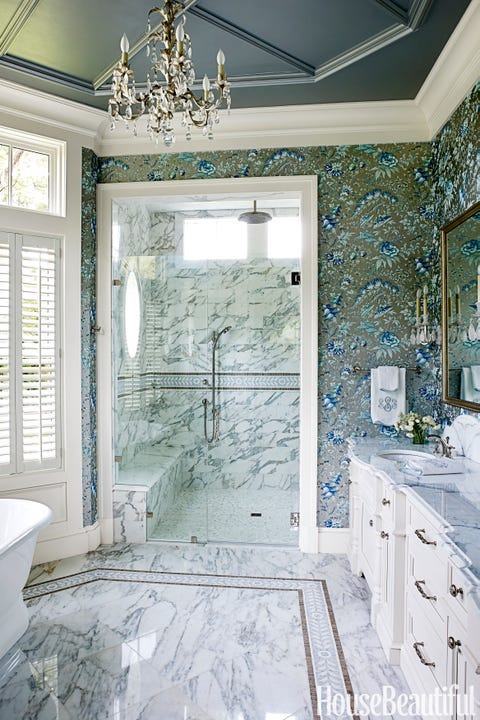 In this all-American home, designer Suzanne Kasler made sure that the bathroom retains a sense of class and grace. The walls are covered in Boussac's Tarantelle wallpaper, to complement the marble floors and countertops.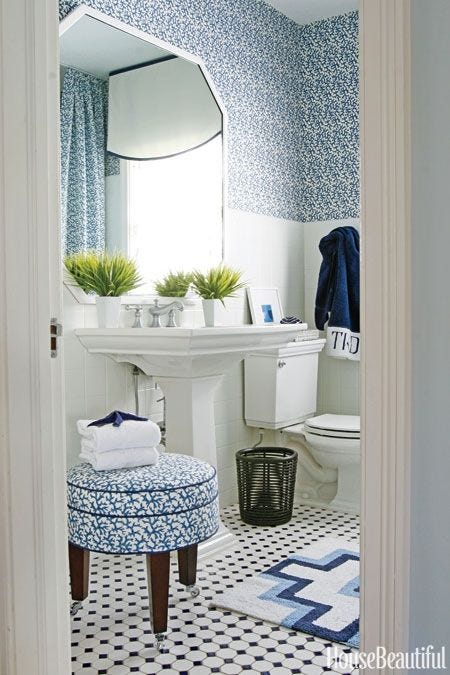 In this makeover project, designer T. Keller Donovan used an indoor-outdoor fabric on these bathroom walls to match the blue-and-white tiled floor.
Heidi Bonesteel chose to use the bright turquoise blue tile close to the ceiling for a fresh and tranquil look in this spa-like bath in Laguna Beach, California.